About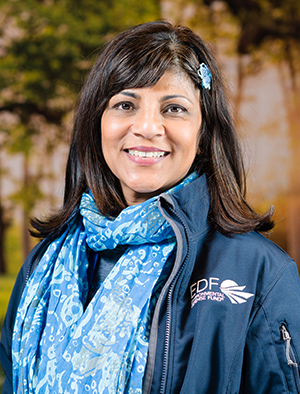 Shareen Yawanarajah (Ph.D)
Director, Global Energy Transition
Work
Areas of expertise:
International energy policy, international methane policy, oil and gas industry operations, research and development
Description
Shareen leads EDF's Global Energy Transition strategy and engagement agenda in Canada, Mexico and Southeast Asia, drawing on her extensive career in climate and energy policy, technology development and research from previous roles held at the U.S. Department of Energy and Shell. Based in Houston, she works with government, international and industry stakeholders throughout the developed and developing world to advance strategies for reducing methane emissions from the oil and gas sector and help achieve the Global Methane Pledge.
Prior to joining EDF, Shareen was the Oil and Gas Vice Consul at the United Kingdom Department of Trade in Houston. Shareen has also worked at the U.S. Department of Energy as the Director of Oil and Gas Research, and at oil and gas companies including Shell and BP. She has more than 20 years of experience working on global energy and oil and gas issues.
Education
B.Sc (Hons), Earth Science, National University of Malaysia
M.Sc, Petroleum Geology, Imperial College, University of London
Ph.D, Organic Geochemistry, Southern Illinois University
Energy Exchange Blog

,

November 24, 2021