About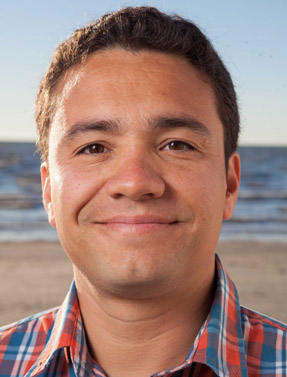 Rafael Ortiz
Senior Director, Mexico Fisheries & Oceans
Work
Areas of expertise:
Fisheries, Ocean Conservation, Stakeholder Engagement, Research and Analysis, Ecophysiology
Description
Rafael restores Gulf of California fisheries through sustainable management, market incentives and science based decisions - making EDF's Oceans program succeed in selected fisheries.
Rafael has worked towards fisheries sustainability as an academic, a business entrepreneur and now coordinating EDF's work in the Gulf of California.
Education
Doctoral degree in Biology-Ecology, Humboldt-Universität zu Berlin (HU) and Leibniz Institute of Freshwater Ecology and Inland Fisheries (IGB)
M.Sc. In Use, Management and Use of Natural Resources, Northwestern Center for Biological Research (CIBNOR)
Marine Biologist (B.S.), UABCS
Ortiz-Rodríguez R, Wiegand C. 2010. Age related acute effects of microcystin-LR on Daphnia magna biotransformation and oxidative stress. Toxicon 56:8, 1342-1349 DOI http://dx.doi.org/10.1016/j.toxicon.2010.07.020
Ortiz-Rodríguez R, Dao TS, Wiegand C. 2012. Transgenerational effects of microcystin-LR on Daphnia magna. J Exp Biol 215:6, 2795-2805 DOI 10.1242/jeb.069211
Ortiz-Rodríguez R. Enzymatic Mechanisms of cyanobacterial toxin tolerance transfer to offspring in the Cladoceran Daphnia Magna. Logos-Verlag, Berlin 129pp ISBN 978-3-8325-3145-4
Dao TS, Ortiz-Rodríguez R, Wiegand C. 2013. Non‐microcystin and non‐cylindrospermopsin producing cyanobacteria affect the biochemical responses and behavior of Daphnia magna. Int Rev Hydrobiol 98:5, 235-244 DOI: 10.1002/iroh.201301626
En Español
Experto en: Pesquerías, conservación marina, manejo participativo, investigación y análisis, Ecofisiología
Descripción del trabajo en EDF
Rafael trabaja en la restauración de pesquerías en el Golfo de California, a través de la promoción de sistemas de manejo pesquero sustentable, iniciativas de mercado y toma de decisiones basada en ciencia.
Experiencia
Rafael ha trabajado desde la academia, el sector empresarial y organizaciones de la sociedad civil para promover la sustentabilidad pesquera.
Educación
Doctor en Biología y Ecología, Humboldt-Universität zu Berlin (HU) y Leibniz Institute of Freshwater Ecology and Inland Fisheries (IGB)
Maestría en Ciencias en el Uso, Manejo y Preservación de los Recursos Naturales, Centro de Investigaciones Biológicas del Noroeste (CIBNOR)
Lic. En Biología Marina, Universidad Autónoma de Baja California Sur (UABCS)
EDFish Blog

,

February 17, 2021