About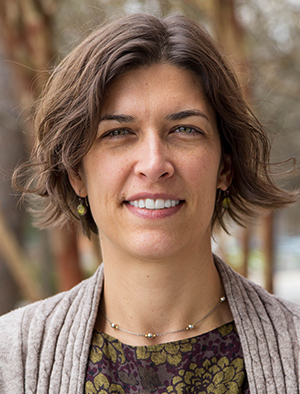 Kelly Suttles
Senior Research Analyst, Climate-Smart Agriculture
Work
Areas of expertise:
Watershed modeling, Soil & Water Assessment Tool (SWAT), Geographic Information Systems (GIS), land use change, climate change
Description
Kelly Suttles utilizes her expertise in hydrologic modeling, geospatial analysis and science communication to identify natural infrastructure opportunities on working lands. She works closely with other scientists to better understand how land management practices can reduce nutrient losses and maintain productivity while also improving water, air, and soil quality.
Before joining EDF, Kelly worked as a GIS Specialist for the Center for Housing and Community Studies at the University of North Carolina at Greensboro. She created maps for a variety of housing-related social and environmental justice projects, most often mapping the social determinants of health for particular geographies. Kelly also worked at the U.S. Forest Service where she modeled the effects of changing land use patterns and climate on water quantity in the second largest watershed in North Carolina.
Education
M.S. in Natural Resources with GIS technical option, North Carolina State University
GIS Certificate, North Carolina State University
B.A. in Chemistry, Elon University</p?
Gay, E.T., Martin, K.L., Caldwell, P.V., Emanuel, R.E., Sanchez, G.M. and Suttles, K.M., 2023. Riparian buffers increase future baseflow and reduce peakflows in a developing watershed. Science of The Total Environment, 862, p.160834.
Saia, S.M., Suttles, K.M., Cutts, B.B., Emanuel, R.E., Martin, K.L., Wear, D.N., Coulston, J.W. and Vose, J.M., 2019. Applying Climate Change Risk Management Tools to Integrate Streamflow Projections and Social Vulnerability. Ecosystems, pp.1-17.
Schilling, K.E., Mount, J., Suttles, K.M., McLellan, E.L., Gassman, P.W., White, M.J. and Arnold, J.G., 2023. An Approach for Prioritizing Natural Infrastructure Practices to Mitigate Flood and Nitrate Risks in the Mississippi-Atchafalaya River Basin. Land, 12(2), p.276.
Suttles, K.M., Singh, N.K., Vose, J.M., Martin, K.L., Emanuel, R.E., Coulston, J.W., Saia, S.M., and Crump, M.T., 2018. Assessment of Hydrologic Vulnerability to Urbanization and Climate Change in a Rapidly Changing Watershed. Science of the Total Environment, 645C, 806-816.
Suttles, K.M., Eagle, A.J. and McLellan, E.L., 2021. Upstream Solutions to Downstream Problems: Investing in Rural Natural Infrastructure for Water Quality Improvement and Flood Risk Mitigation. Water, 13(24), p.3579.
Growing Returns Blog

,

May 15, 2023

Growing Returns Blog

,

February 3, 2023

Growing Returns Blog

,

November 10, 2022