August 16, 2023
Sharyn Stein, 202-905-5718, sstein@edf.org
(Washington, D.C. – August 16, 2023) The U.S. market for electric vehicle and battery manufacturing, which was turbocharged by passage of the Inflation Reduction Act (IRA) one year ago today, has continued to race ahead and is not expected to slow down any time soon.
That's the finding of a new report by Environmental Defense Fund and WSP USA, which updates a report that was originally released six months ago. Today's report finds that, a year after its passage, the IRA has catalyzed rapid investment and job growth:
Manufacturers have announced more than $165 billion in concrete investment in U.S. EV and EV battery manufacturing facilities in the last eight years. More than half of that (56 percent) has happened in the last year, since IRA passage.
Manufacturers have announced more than 179,000 new direct U.S. EV-related jobs in the same time frame, almost half of which were announced in the last year.
The announced investments are expected to create more than 800,000 additional jobs in the broader economy.
"The American electric vehicle manufacturing renaissance is booming, driven by historic federal  investments," said Peter Zalzal, EDF's Associate Vice President for Clean Air Strategies. "On its first birthday, the Inflation Reduction Act is spurring huge increases in EV manufacturing investments and tens of thousands of jobs for Americans in communities across the country. We must continue working collaboratively to maximize these vital benefits for everyone."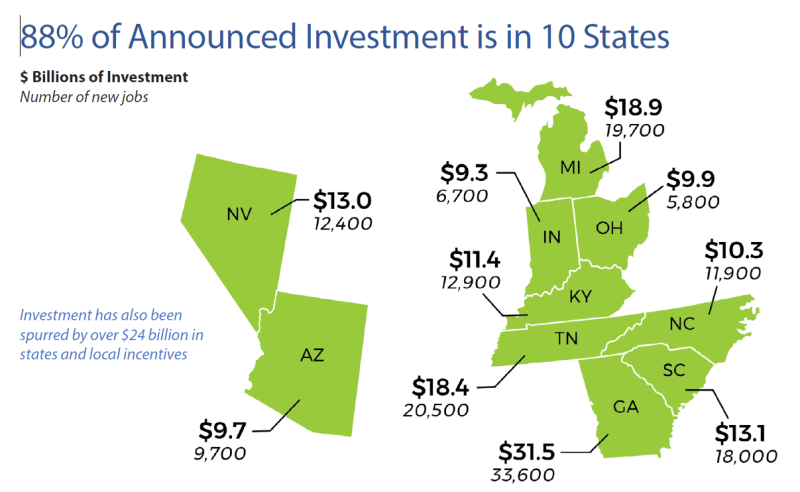 Graphic: Report, page 3
The announced EV investments will be in states across the country, although 10 states account for 88 percent of investments.
The states with the greatest levels of investment and announced jobs:
Georgia – $31.5 billion in EV investments and 33,600 jobs
Michigan – $18.9 billion in investment and 19,700 jobs
Tennessee – $18.4 billion in investments and 20,500 jobs
Georgia's announced investments have more than doubled since the last version of the report, in March. Michigan and Tennessee have each added billions in additional near-term investments and thousands of jobs since the earlier report.
Four more states have more than $10 billion each in announced investments – South Carolina, Nevada, Kentucky and North Carolina. Each of those states now has between 10,000 and 20,000 announced new jobs.
Ohio, Arizona and Indiana round out the top ten states with more than $9 billion in announced investments each. Arizona's announced investments increased by 260 percent from March – from $3.7 billion to $9.7 billion.
The updated report also found rapid growth in nationwide production capacity over the last six months.
By 2026, U.S. EV manufacturing facilities will be able to make about 4.7 million new passenger vehicles annually, which represents 36 percent of all new vehicles sold last year.
By 2027, U.S. facilities alone will be able to produce enough batteries to supply 12.2 million new passenger vehicles each year, which represents 95 percent of new vehicles sold last year.
The report also found that "U.S. investments, jobs, and production capacity will likely continue to grow in response to strong federal investments and incentives." 
You can read the whole report here.
The Inflation Reduction Act is the single largest U.S. effort to address climate change in history and it provides hundreds of billions of dollars in funding for everything from clean energy to efficient electric appliances as well as the EV market. EDF and Columbia Law School's Sabin Center for Climate Change Law created IRAtracker.org to provide the public with up-to-date information about IRA implementation activities. This free searchable database now lists 144 agency actions. For more information, or help using the tracker, please contact EDF.
# # #
One of the world's leading international nonprofit organizations, Environmental Defense Fund (edf.org) creates transformational solutions to the most serious environmental problems. To do so, EDF links science, economics, law, and innovative private-sector partnerships. With more than 3 million members and offices in the United States, China, Mexico, Indonesia and the European Union, EDF's scientists, economists, attorneys and policy experts are working in 28 countries to turn our solutions into action. Connect with us on Twitter @EnvDefenseFund