October 1, 2015
Sharyn Stein, 202-572-3396, sstein@edf.org
NEWS RELEASE
(Washington, D.C.) The U.S. Environmental Protection Agency (EPA) today improved America's national air quality standard for ground-level ozone — more commonly known as smog – while falling short in adequately protecting public health.
"Smog is a harmful, air pollutant that's linked to serious lung diseases especially in children, the elderly and those active outdoors," said Vickie Patton, EDF General Counsel. "While the air quality standard announced today is an improvement, it falls short of what is necessary to safeguard healthier, longer lives for our children and for all Americans at risk."
Smog air pollution is associated with asthma attacks, long-term lung damage and premature death. To ensure that the nation's air quality standards reflect current medical science, EPA is required to review and, if appropriate, revise the nation's health-based smog standard every five years.
EPA today finalized a standard of 70 parts per billion (ppb) — at the least protective end of the range recommended by the EPA's independent scientific advisors and the nation's leading health and medical societies. EPA's independent Clean Air Scientific Advisory Committee found that at 70 ppb there is "substantial scientific evidence of adverse effects … including decrease in lung function, increase in respiratory symptoms, and increase in airway inflammation." [Italics added for emphasis.] The American Thoracic Society found that a "less protective standard of 70 ppb would result in 3,752 more premature deaths annually" as compared to the more protective standard recommended by scientists.
America has readily available, cost-effective solutions at hand to help communities across our nation address smog pollution. Power plants, vehicles, and oil and gas operations contribute to smog. Current clean air measures — including Tier 3 fuel and tailpipe standards, the Cross State Air Pollution Rule, and Clean Power Plan — will help reduce smog-forming pollution. Proposed clean air standards for medium- and heavy-duty trucks will also drive further reductions in emissions.
America also has a long time tested history of reducing harmful air pollution while our national economy has continued to grow. Since 1970, we have reduced dangerous air pollution by almost 70 percent while the U.S. economy has grown by almost 240 percent – as EPA's chart, below, shows.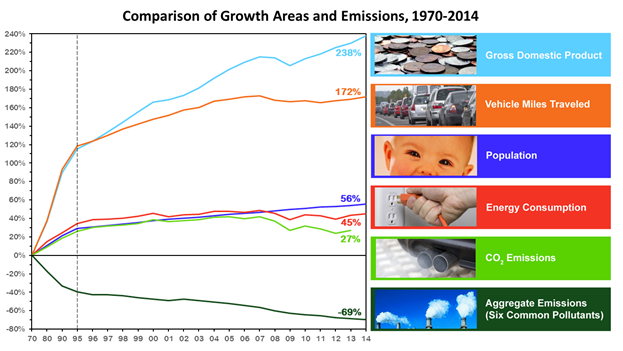 # # #
Environmental Defense Fund (edf.org), a leading international nonprofit organization, creates transformational solutions to the most serious environmental problems. EDF links science, economics, law and innovative private-sector partnerships. Connect with us on EDF Voices, Twitter and Facebook.