Date published: June 18, 2015
An in-depth analysis by ICF International estimates that fugitive and vented losses from oil and natural gas operations on federal and tribal lands amounted to over 65 billion cubic feet (Bcf) in 2013. This gas would be worth nearly $330 million at current prices. Mark Brownstein of EDF says "These losses, which are largely composed of the powerful pollutant methane, are an irresponsible use of taxpayer and tribal resources, and harmful to the climate."
This report, commissioned by the Environmental Defense Fund, also identifies and measures methane abatement opportunities from federal and tribal lands, building on a 2014 analysis that focused on emission reduction opportunities from the onshore U.S. oil and gas industry.
Following the release of this report, the Bureau of Land Management (BLM), under the Obama Administration, finalized rules requiring operators that drill on taxpayer and tribal-owned lands to curb natural gas waste and pollution. However, the Trump Administration is undermining these common sense standards at every turn.
The findings of this report underscore the need to protect and defend BLM's methane standards.
The oil and gas industry is wasting a valuable resource. Solutions to the problem are simple, but it's not going to happen without better oversight.
Top findings
Oil and gas companies operating on federal and tribal lands are losing enough natural gas each year through leaks and intentional venting and flaring equal nearly$330 million at current market prices. This is enough natural gas to meet the heating and cooking needs of 1.5 million homes.
These losses led to over 1 million tons of methane emitted from oil and natural gas operations on federal and tribal lands in 2013, representing about 12% of the nation's methane emissions. EDF has calculated that  this much methane is equivalent to the greenhouse gas pollution from 5.6 million cars.
Companies are usually not required to pay royalties when natural gas extracted from federal lands is lost prior to the production meter. Natural gas losses on federal lands in 2013 had a value of $27 million in taxpayer royalties, based on gas at $4/Mcf and a 12.5% royalty rate.
The report estimates that companies can reduce oil and gas methane emissions from federal and tribal lands, using available methane mitigation opportunities, by nearly 40 percent at a net annual savings of $0.62 per thousand cubic feet of gas (Mcf) reduced on federal lands, and a net annual cost of $0.25 per Mcf reduced on tribal lands (less than a penny per Mcf produced).
These cost effective methane emissions reduction practices identified include frequent leak inspection and repair (LDAR) programs, which are already being implemented in many areas.
Map: Federal lands are a significant source of methane pollution, with New Mexico and Wyoming reporting the highest emission levels.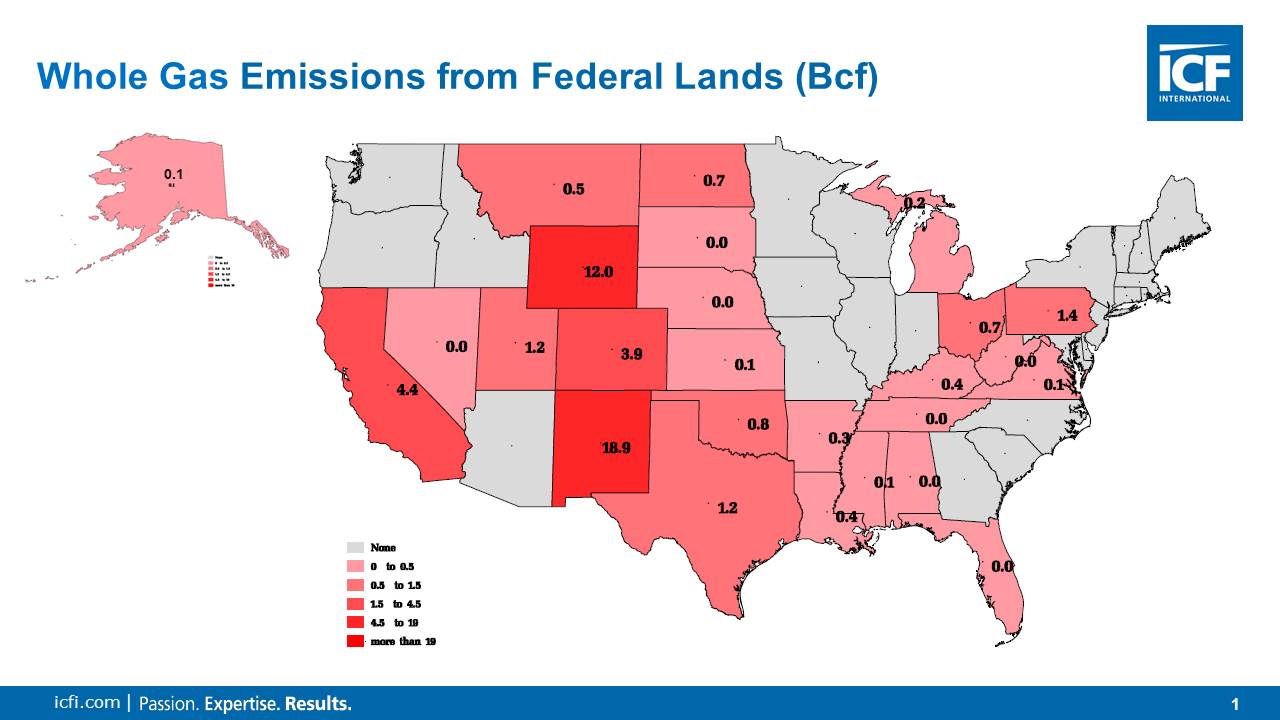 Map: Tribal lands also emit a sizeable amount of methane pollution, with Utah being the largest emitter.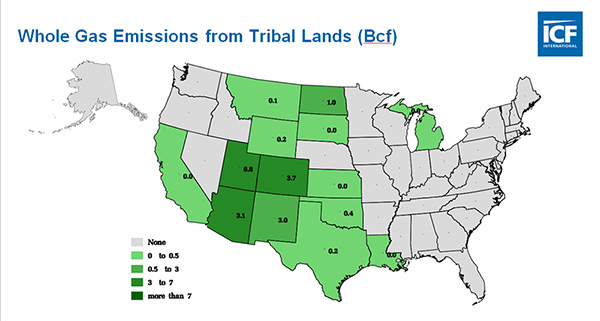 ICF's new analysis is based in part on publicly available information about the location of oil and gas production facilities, as well as emission inventories published by EPA and data on oil and gas production on federal and tribal lands within each state.