Leaked natural gas — mostly methane — is a powerful contributor to climate change.
Explore Jacksonville map data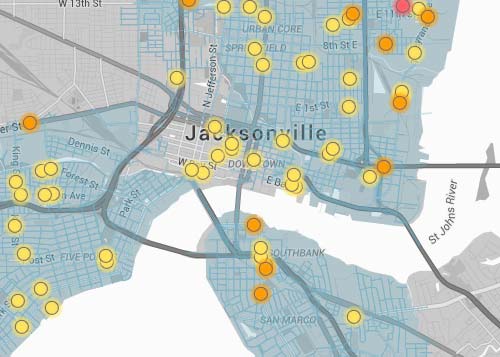 Click for interactive map
Interactive map
Unfortunately, the device you're using can't show this complex interactive map. Please visit again on a tablet or computer.
Findings
Our readings indicated an average of about one leak for every nine miles we drove.
Readings are from February through June 2015 and may not reflect current leaks, due to repairs or other changes.
If you ever smell gas, or have any reason to suspect a problem, experts say to immediately exit the building or area, then call the authorities. For more, see the Peoples Gas Company safety page.
---
About Jacksonville's natural gas infrastructure
Utility: The Jacksonville area is serviced by Peoples Gas System. Most leaks don't pose an immediate threat to safety or health, but some can. We have shared this data with Peoples Gas Company.
Pipe materials: About 3% of pipes are made from cast iron or other corrosive and leak-prone materials.
Age of pipes: About 20% of the pipes are more than 50 years old.
Progress: Given its accelerated pipeline replacement program approved by the Florida Public Service Commission, Peoples Gas System has successfully reduced the levels of leak-prone material in its distribution system.

From 2011 to 2014, the level of bare steel on the company's main pipes fell from 3.3% to 2%.
Date updated: July 12, 2019