Deforestation is responsible for nearly 15% of the world's greenhouse gases. But, in many tropical nations, it is more economical to cut down forests than protect them. 
At EDF, we want to transform the profit motive and make forests more valuable alive than dead. Doing so would be one of the most efficient ways to lower global emissions in a way that protects the livelihoods of indigenous communities.
That's the driving idea behind a global policy effort we helped pioneer, known as REDD+, which stands for reducing emissions from deforestation and forest degradation.
How it works: In a REDD+ program, a state, jurisdiction or country that commits to reducing deforestation below an established baseline would receive valuable credits to sell in carbon markets.
Who will buy the forest credits?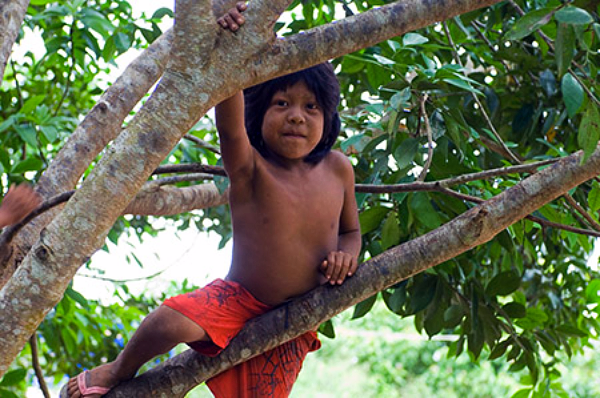 Credit: Cristina Mittermeier
Around the world, REDD+ programs are getting off the ground, including in the states of Acre, Brazil, and Chiapas, Mexico. We have partners and staff in both countries, assisting with the launches.
For these programs to succeed, they will need financial incentives.
A major potential partner: California. The state's groundbreaking cap-and-trade market launched in 2013, with help from EDF.
Impressively, California is now the second-largest carbon market in the world. But it will have even more impact if it connects with efforts happening elsewhere.
The knowledge to make it happen
There are many complexities to establishing markets that operate fairly, openly and efficiently.
So, to help streamline this process, an expert working group, including EDF's tropical forest director Steve Schwartzman, released comprehensive recommendations in 2013 for how California could incorporate REDD+ credits into its cap-and-trade system. The REDD+ participants must show they've reduced deforestation jurisdiction-wide and below historical levels.
Going forward, EDF will work with community partners, policymakers and carbon market experts in the hopes of adding REDD+ to the California system.
Help us save more forests
California continues to lead the U.S. in progressive climate change policies, as the Trump administration pulls back. Now the state can demonstrate its leadership by increasing its global impact.
"California can establish itself as a world leader in curbing deforestation," explained Christina McCain, EDF's Global Climate Program Director. "We want to usher in an era of collaboration."
Act when it matters most
Every day more than 60 people sign up for news and alerts, to find out when their support helps most. Will you join them? (Read our privacy policy.)
Donate to support this work