Great holiday gift: Millions of packages delivered by electric trucks
Here's one reason for holiday cheer: Millions of packages will be arriving on doorsteps this holiday season via electric delivery vans that don't produce any tailpipe pollution. 
More than 1,000 Amazon electric delivery vans are now making deliveries in more than 100 cities across the United States. Fed Ex has 150 electric vans running in southern California, and has ordered 1500 more. In the Dallas-Ft. Worth area, Walmart has begun testing the first arrivals from its order of 4,500 electric vans. Even the U.S. Postal Service is expected to roll out the first of its 66,000 new electric mail trucks in late 2023. 
In fact, zero-emission trucks of all shapes and sizes are starting to hit U.S. roads, with thousands expected to roll out in the next few years.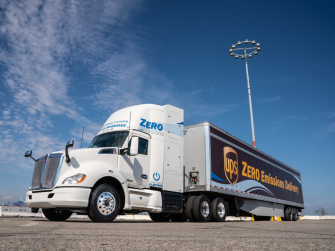 Trucks carry more than 70% of all freight in the country and travel 300 billion miles every year. Many trucks — especially package delivery trucks and semis — run on diesel. They are responsible for about ¼ of climate pollution and nearly half the smog-forming tailpipe pollution from all vehicles on U.S. roads. 
Trucks that run on electricity or other zero-emission technologies don't emit any tailpipe pollution. After a slow start, these clean trucks are finally starting to roll off assembly lines and into service.
In addition to the electric vans already in use, logistics company Schneider National is running nearly 100 electric semis from Freightliner. PepsiCo, already using electric box trucks, finally received the first of its long-awaited electric semis from Tesla. Tesla semis are supposed to boast a range of 500 miles — a potential game changer for long-haul trucking. 
"Hundreds of large and small fleets across North America are rolling out electric trucks," says Jason Mathers, who directs freight strategy for Environmental Defense Fund. "It's the start of a remarkable transformation in a critical industry." 
New incentives are bringing down prices 
EDF has documented 170,000 zero-emission trucks currently on the road or on order from manufacturers today. That's a huge jump from just 2,000 in 2018. 
Still, there are 13.5 million trucks on U.S. roads, and the vast majority run on diesel. A suite of new incentives could hasten the transition to zero emission trucks.
How to green your shopping 

In some cases, online shopping can have a smaller environmental footprint than shopping in person. To reduce your impact, be sure to:

Choose no-rush shipping
Bundle your orders into a single delivery day
Shop in person if you can walk, bike or take public transit to stores.
California, Massachusetts, New Jersey, New York, Oregon and Washington have passed laws directing manufacturers to phase in increasing percentages of clean truck sales over the next decade-plus. And the U.S., at the COP27 global climate summit in November 2022, committed to 100% zero-emission truck and bus sales by 2040. 
Meeting that target would save 57,000 lives by reducing smog- and soot-forming pollution, and cut 4.7 billion tons of climate pollution by 2050. 
Many would like to see the timeline moved up even further. 
Zero-emissions is best for health
In California, trucks produced more than 1/3 of California's smog-forming nitrogen oxide (NOx) emissions and more than ¼ the state's toxic diesel particulate matter emissions in 2019. 
Alicia Aguayo used to work at an elementary school near her home in San Bernardino, California. "More than 50% of our students had asthma," says Aguayo. "There were so many days when the school said we couldn't take the kids outside because the air quality was bad. These little kids would be so excited for recess and I would have to tell them, 'Not today.'" 
Aguyao now works at the People's Collective for Environmental Justice in San Bernardino, where many residents face multiple sources of pollution, including from trucks that move in and out of more than 3,000 large warehouses in the region. 
PC4EJ is part of a coalition of environmentalists, frontline workers and environmental justice groups advocating for California to hit 100% zero emission truck sales by 2036. 
"We're asking for 100% zero emission truck sales to happen sooner because our communities cannot wait," says Aguayo. "Too many people have passed. Too many have gotten sick. We cannot get those years back."  
California is expected to make its decision in the spring of 2023. Meanwhile, zero-emission trucks are getting a boost from the Inflation Reduction Act, the massive climate law passed by Congress in 2022. 
Loans, tax credits and other investments in electric trucks — including incentives for individual buyers — are expected to speed the transition. Zero-emission package delivery trucks, for example, are projected to cost the same or less than diesel as early as 2023. 
"The transition is happening," says Mathers, who has worked with fleet operators and truck manufacturers on green freight for more than a decade. "We want to make sure it's as fast and as fair as possible."