Expert Voices: Q&A with EDF's Jason Mathers
When I say "electric vehicle," you think "Tesla." Maybe Ford's new F-150 Lightning or electric Mustang. But though passenger cars are certainly taking the auto industry by storm, they're not the only vehicles on the road that are rolling toward a zero-emission future. The trucks and buses that drive our economy—called medium- and heavy-duty vehicles in industry-speak, or MHDVs—are poised for a transformation of their own.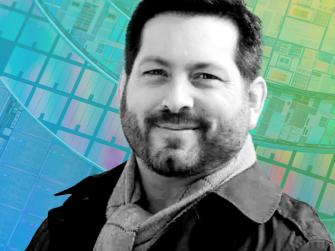 I spoke with my EDF colleague Jason Mathers, Director of EDF's vehicles and freight strategy, to learn more about why this sector is so important, what EDF is doing to spur the transition, and how technology is playing a central role. 
DH: Trucks and buses make up a relatively small percentage of the vehicles on the road. Why is electrifying this sector so important?
JM: It's true there are fewer trucks and buses than passenger cars, but there are still 30 million of them in the U.S. alone. And they have an outsized impact on climate and local air pollution. They generate 7% of all U.S. climate emissions — more than aviation, maritime shipping, and rail. And their local air pollution affects poorer and marginalized communities more than others. Highways, ports, distribution centers, and other truck-heavy locations contribute to asthma, heart disease, and premature death.
What has surprised or energized you most about the electrification trend in the truck and bus sector?
The speed of it. A few years ago, the number of manufacturers and fleets that were going electric was growing, but it was small. The growth is exponential now. Sales have increased ten-fold in the last five years. 200 companies have or will deploy electric fleets, a 1000% jump since 2017. Since 2019, there's been a 600+ percent increase in the number of zero-emission truck models. Walmart ordered 4,500 electric last-mile trucks. Amazon ordered 100,000 electric trucks from Rivian. FedEx said its pickup and delivery fleet will be zero-emission by 2040. 
 
People don't think of trucking as a quick-change industry. For example, it took decades for diesel to become the industry standard. But the industry's response to zero-emission vehicles is changing that perception. I think we're very close to the tipping point.
What sparked that transition?
Several things. The first is that electric transportation has gotten a lot better and a lot more affordable  in recent years, and that's because of years and years of R&D and technology improvement. This didn't happen by accident. Second, I think large companies like Walmart, FedEx, and others, who have genuinely committed to climate action make a powerful statement to the rest of the industry. Business moves business. And having big players push the industry forward is powerful. Prices are also coming down. Battery costs continue to decline, and when you combine that savings with reduced maintenance and fuel costs, the economics of zero emission trucks are very attractive. And now, we have significant federal funding, which will significantly reduce the upfront cost of these vehicles while helping to address the associated infrastructure costs of going electric. 
This momentum might make someone think "mission accomplished…your job is done." I suspect you're going to tell me we're not quite finished…
Getting vehicles that are capable to performing the jobs needed of them is just the first step. We need to build a system that will support the operations of these vehicles. There are a lot of factors outside the controls of the fleet operator that are critical to the success of EV deployments. The utility might need to upgrade the electric service to support charging. Trained mechanics who can maintain and repair the vehicle need to be available wherever it goes. The software for the charging equipment must work with their model truck. The move to EVs adds complexity to daily operations. We noticed that a lot of fleet managers are interested, but they don't know where to start. That led us to create an online guide at electricfleet.org that walks them step-by-step through the planning and execution of the transition. 
Tell us about the technology involved in this transition. What new kinds of innovation will drive it?
Of course, there's innovation in the new models of zero-emission vehicles. Motor and battery technology will continue to improve, which will increase performance and drive down costs. But there are several other technologies that will really push this beyond a simple switch from diesel to electric. For example, an EDF analysis showed that managed charging — that is, developing a charging schedule that syncs with grid demand and utility rates — will be key to maximizing cost savings. And we found that locating solar generation and even additional battery storage at charging locations will be important to counter the new grid demand. That's a whole new area of energy management and aggregation that utilities and fleets will have to master, and it's a great place for third-party companies to bring value. One area I'm particularly interested in is port vehicles. We tend to think of trucks and buses as long-haul vehicles, but there are millions of drayage vehicles that move cargo short distances — from ships to trucks and within ports. Electrifying them would not only clean up port communities, but it's a fascinating area for innovation.