Thriving business, thriving environment.
Gaining profits at the expense of our planet is an M.O. no longer accepted by most consumers, investors or business leaders. Yet the practical question remains: How can business growth and financial viability actually go hand in hand with environmental benefits?
1 in 3

of the Fortune 100 have participated in EDF Climate Corps
We created the EDF Climate Corps program to help organizations uncover concrete answers to that question – but an EDF Climate Corps energy management fellow does much more.
Program fellows cut energy costs
We embed highly trained, handpicked EDF Climate Corps fellows – grad students in business and engineering from top universities – into leading companies and large municipal organizations to find the intersections between their financial benefit and environmental impact. Fellows leverage advanced technology, financially viable renewable energy and cutting-edge ideas to streamline operations and cut costs.
An EDF Climate Corps fellow looks at efficiency and sustainability not as a "nice to have" but as an integral part of your organization's business strategy. With a fellow's technical expertise and innovative problem-solving skills, your organization can accelerate its energy efficiency, clean energy and emission reduction projects and simultaneously accomplish its sustainability and business goals.
Businesses get focused and thrive
The results? A stronger, leaner, more resilient company that profits over the long haul. Increased ability to set and hit meaningful energy goals. The chance to test-drive top talent before your competition does.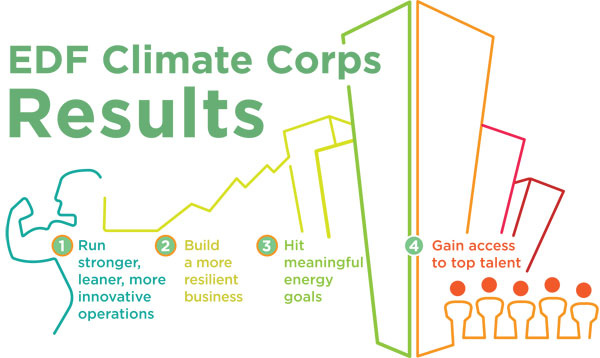 Most importantly, every bit of greenhouse gas your company avoids means a healthier world for everyone.