Celebrating Arizona's rivers
The Arizona "River of the Month" series profiles a different river each month in honor of the state's centennial
Although many stretches of Arizona's rivers and streams are now dry, those that remain are especially valuable to this desert state. The stories of Arizona's rivers are distinct, but also share themes with the stories of rivers across the Colorado River Basin – an area that spans seven U.S. and two Mexican states. With good stewardship and thoughtful planning, these rivers will continue to flow, supporting vibrant communities, stable economies, thriving ecosystems, and a high quality of life in the west.
This series is produced by Environmental Defense Fund, Sonoran Institute, Sierra Club, Grand Canyon Trust, and Western Resource Advocates, with technical assistance from the University of Arizona's Water Resources Research Center. Profile maps by Bronze Black, writing and editing led by Tory Syracuse.
Send your email address to Jocelyn Gibbon to receive an email with each month's profile when it is released.
Rivers of the month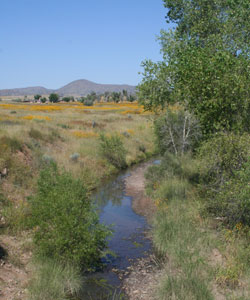 Photo credit: Kelly Mott-Lacroix, courtesy of the Arizona Department of Water Resources
Our staff expert

Jocelyn Gibbon
Attorney, Colorado River Project

Contact Jocelyn
Media contact