The Trump administration's shocking attack on science and what you can do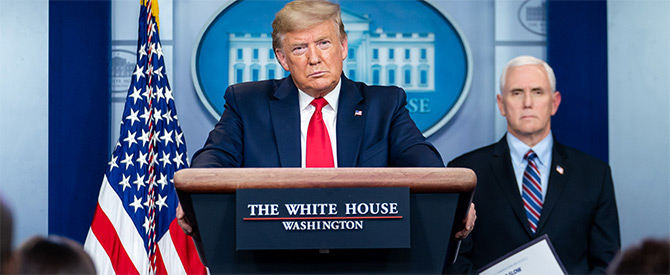 Date published: April 7, 2020
This unprecedented pandemic has made it abundantly clear: We need rigorous science to guide public health policies.
Unfortunately, the Environmental Protection Agency is trying to rush through a proposal to censor the science that guides public health protections and keeps Americans safe.
How this proposal would censor science
The EPA is expanding on an already dangerous effort to restrict the agency's use of science when making decisions around protecting our health.
Initially proposed in 2018 under the guise of promoting transparency, this rule would effectively bar the EPA's use of scientific studies when underlying data are not public.
The expanded proposal released just a couple of weeks ago threatens to apply this approach to a much broader array of studies.
The bottom line: Thousands of widely accepted studies that support limits on toxic chemicals and pollution could be cast aside, undermining safeguards for our families and letting polluters off the hook.
Vital coronavirus research could be barred
The studies that could fall under this rule are as vast as they are critical.
As Sen. Tom Carper of Delaware has pointed out, even some studies looking at other coronaviruses and SARS — which could provide invaluable information on how to combat our current pandemic — could be marginalized or disregarded under this proposal.
The American Cancer Society's sweeping cancer prevention study could be banned. Studies that shaped the EPA's standards for arsenic in drinking water, and many other air and water protections, would also be unavailable for the EPA to use.
Why this is no time for a rushed deadline
The Trump administration is advancing its attack on health science in the midst of an unprecedented pandemic.
Though it has extended the comment period by a month — giving the public until May 18 to weigh in — the COVID-19 crisis won't be resolved by then.
Public health experts and scientists, whose input on this proposal will be crucial, are facing severe hardship and demands in responding to the national health emergency.
They won't be able to sufficiently respond on this complex proposal before the arbitrary deadline.
Here's what you can do to stop this attack
Public health groups, states and others have joined EDF in requesting more time to evaluate and comment on this rulemaking.
As the coronavirus pandemic imminently threatens thousands of lives, join us in demanding that the EPA suspend its dangerous and ill-conceived proposal to censor science and give all Americans a meaningful opportunity to be heard.