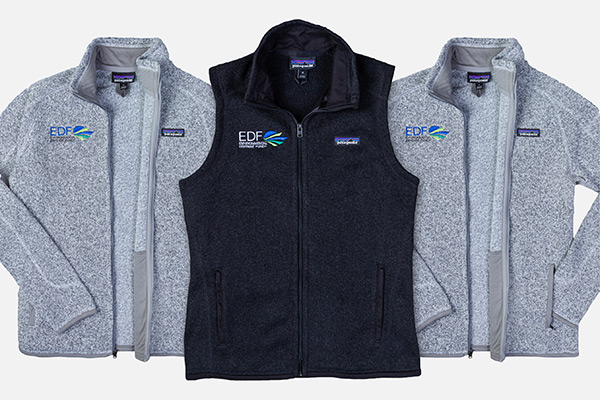 Show your commitment to the environment by sporting clothing and outdoor gear from EDF.
Our online store — just for EDF members — offers our hand-picked selection of products by environmentally conscious brands, such as Patagonia and Nike. Everything features our logo.
And as a bonus: You get 15% off the retail price.
What you need to know
We've partnered with ParsonsKellogg, a company we trust, to host and run our online store. It handles:
Though you may order at any time, the company ships on the first and 15th of the month. For example, if you order on Dec. 16, your items will ship Jan. 1.
If you have questions about the store or your orders, you may call ParsonsKellogg's customer service line at 866-602-8398 or email info@parsonskellogg.com.
We'll be adding exciting new eco-friendly items, so check back whenever you want to get a gift for a loved one — or yourself.
Not a member? Join now for instant access.
The moment you make a donation, you'll join the more than 2.5 million members and activists who help us fight climate change, restore wildlife habitat and protect families from toxic pollution.
As a member benefit, you'll get instant access to the online store.
Looking for everyday items and gifts?
In a separate online gift shop, we offer a variety of environmentally friendly EDF keepsakes.
There, you'll find tote bags, our signature polar bear water bottle, books by our experts and more.
Donate $25 or more through the gift shop and choose the items you'd like to receive.
By giving a gift that helps protect the environment, you can get a gift, too.