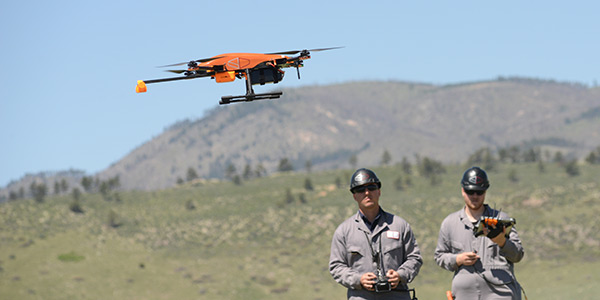 Momentum for better, faster, cheaper ways to tackle methane leaks is building.
Seeing how technology and big data transformed oil and gas operations – driving drilling costs down and production up – the industry is trying fresh approaches to tracing the potent greenhouse gas. Leaks threaten the climate and drain profit.
The same energy that drives Silicon Valley entrepreneurs to push new technology and ideas into the marketplace is bringing low-cost sensors and lasers to well sites that can spot methane instantly.
Emerging technology can cut the time it takes companies to find and fix leaks from months to days, using equipment on the ground, in the sky and even in space.
EDF is bringing industry and innovators together to explore the strongest possibilities.
Why the technology is emerging now
The industry is looking for ways to boost natural gas' credibility among consumers and investors as a lower-carbon energy source.
Wind and solar energy are becoming stronger contenders. The oil and gas industry wants to stay in the mix, and reducing emissions is one way to keep competitive.
At the same time, a wave of industry execs is retiring, bringing in a new generation of tech-bred leaders scouting for digital-age remedies.
As these forces converge, we're examining the scope of the methane problem and how technology can make a massive dent.
Our Methane Detectors Challenge, for example, yielded solar-powered laser technology from Colorado startup Quanta3. The equipment uses the Internet to provide real-time data analytics to well site managers via mobile devices or web portals.
Shaking up the usual ways to find leaks
You can't see or smell methane, the main ingredient of natural gas. Leaks are tough to spot.
Oil and gas companies typically have relied on handheld infrared cameras or portable analyzers to check for leaks periodically at well sites. Both work, but there are trade-offs.
The cameras, for example, may not work as well in extreme heat or wind. The analyzers, unlike the cameras, only detect smaller leaks. A worker must check potential sources of leaks, such as valves, one at a time. A single oil and gas facility can have thousands of valves.
Innovators are working to boost coverage and speed while driving down cost. The future points to automated leak-spotting systems that let companies monitor methane emissions continuously across thousands of sites.
Over time, smart sensors on wells may send massive amounts of data to predict and prevent leaks and malfunctions.
The potential scale is immense
When delivered as natural gas, methane is a valuable energy resource. But too often, it's leaked, flared or vented – more than $30 billion worth lost each year, worldwide.
Industry leaders are already looking to technology to cut such emissions.
One key example: XTO Energy – the ExxonMobil subsidiary that leads the United States in natural gas production – recently pledged to continuously reduce methane emissions, with technological upgrades.
Meanwhile, the CEOs of 10 other oil and gas companies, representing 20 percent of global production, say they're aiming for "near zero" methane emissions.
Obstacles to overcome
Launching a new product for the oil and gas industry can take many years. To boost the chances of new ideas getting to the marketplace, the pace of innovation needs to speed up.
Placing a number of small bets on untested ideas, rather than just building on what already works, could bring more diverse choices that stretch the leading edge.
Meanwhile, companies need to test promising methane technologies in real-world conditions and actively share the results. More collaboration would give entrepreneurs a better idea of what the market needs and show companies what innovators can deliver.
Buy-in from industry leaders will be vital for spurring competition that will spread these technologies across the supply chain while shrinking another potential hurdle: cost.
How we're pushing innovation
We're daring developers and engineers to design cutting-edge, cost-effective methane monitors, and we're bringing together unlikely partners to make it happen.
Through our work, we've learned that innovation needs early and ongoing collaboration across technology and energy sector lines.
We've united oil and gas industry leaders, scientists and other nonprofits to spark developing and deploying continuous methane monitors that would ultimately cost less than traditional approaches.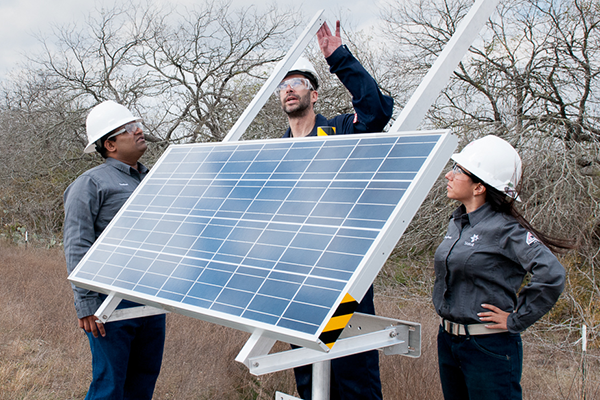 The Quanta3 solar-powered laser that arose from our Methane Detectors Challenge has attracted Shell and Equinor (formerly Statoil). They have field-tested the technology.
We're now running the Mobile Monitoring Challenge with Stanford University to test and compare new mobile technologies. Whether by plane, helicopter, drone or truck, going mobile can survey dispersed facilities quickly.
Looking to the future, we're planning to develop a new kind of satellite to map and measure oil and gas methane emissions worldwide. We'll make the data available to anyone.
And we'll soon be focusing on using big data to predict leaks so companies can prevent them. Companies already use such predictive analytics, with computers that learn and adapt, to increase oil and gas production while lowering cost.
Expanding these technologies and analytics – plus more to come – will help keep methane in the pipe and out of our atmosphere.
Get innovation updates
We'll send regular updates about developments in technology, science and the environment.
Thanks for subscribing to Innovation and the Environment.