A Future for Monarchs
Bringing the iconic butterfly back from the brink
Monarchs at Risk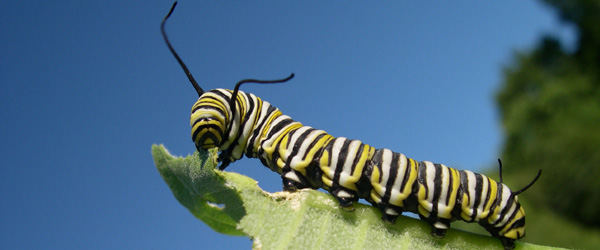 Over just the last two decades, the monarch population has declined by 90 percent, bringing the butterfly dangerously close to extinction.
There are many elements contributing to this devastating loss — from climate change to deforestation. But there's one key factor in the monarch's demise: The loss of milkweed habitat across the United States, particularly in the Midwest.
Monarchs depend on milkweed for survival. It's where they lay their eggs, where caterpillars first hatch and feed. The precious plant defends them from predators, with a toxin harmless to the butterflies that makes them taste terrible to any animal of prey. Without it, monarchs simply cannot survive.
But the increased use of herbicides in agriculture is drastically reducing the amount of milkweed available — and putting the monarch at risk.
And we don't have time to wait for action. Hundreds of species are already in the pipeline for Endangered Species Act listing decisions. These protections act more like an emergency room visit than preventative care, and we need to address this devastating threat to the monarch before it's too late.
That's why we're implementing an innovative solution
It's called the Monarch Butterfly Habitat Exchange, and the idea behind it is simple: We want to make it more profitable for farmers to protect milkweed than to eliminate it, incentivizing conservation. Since farmers and ranchers manage much of the habitat appropriate for milkweed, they are in a perfect position to restore and enhance this vital habitat, creating key patches and corridors of breeding and nectaring habitats along the monarch butterfly's great migration.
The Monarch Butterfly Habitat Exchange determines the value of this habitat on any given property, and enables incentive payments to be directed to priority habitat restoration and conservation sites.
We're ensuring maximum bang for the buck — and for the butterfly
You can help along the way by planting milkweed of your own — but you need to make sure you get the right milkweed for your region of the United States. Each species of milkweed will grow best in its native area, and healthy milkweed means healthy monarchs! You can learn how to help monarchs and where to find the right milkweed here — just be sure to keep the plant away from pets and children, as it can be toxic.
The Miracle of Monarchs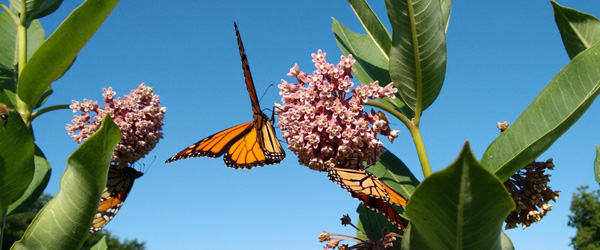 The striking beauty of the monarch butterfly is unmistakable — but their uniqueness goes beyond the vivid orange and black wings that make them so recognizable.
These slight creatures weigh less than a dime, yet travel thousands of miles every year — 50 to 100 miles in just a day. An instinctive internal compass guides them on the same migration path as their ancestors — in spite of the fact that they have never taken the journey before. It's nothing short of a miracle of nature.
But the butterflies that begin this majestic odyssey will never finish it. Weeks into the journey, the first generation will mate, and it's their next generation that will continue the trek northward. The females lay their eggs on milkweed — the plant most precious to the monarch. About four days later, the caterpillars will hatch and feast on the toxic (but harmless to monarchs) leaves, storing the milkweed's poison in their bodies.
The toxin remains in the monarch even after the caterpillar forms a chrysalis to protect itself during its two week metamorphosis, and emerges as a bright orange butterfly. The color of the monarch's wings signals to potential predators that the monarch itself contains this poison, warning them that the butterfly tastes terrible, and ensuring the monarch's protection.
Now adults, the butterflies continue the journey their parents started, repeating the cycle for several generations until they arrive back home.
Read on to find out what's putting these magnificent creatures at risk — and what we're doing about it.
From the Field
David Wolfe, EDF's Director of Conservation, is traveling the country working with farmers and ranchers to guarantee a future for monarchs and protect vital habitat.
These are his stories.
October 11, 2017
I returned with the rest of our field team to Wagley Ranch this fall to conduct a second round of testing of our monarch butterfly Habitat Quantification Tool (HQT) on a large 1,200 acre area of rangelands that we are targeting for restoration activities. The plan is to divide the restoration area into several management units for prescribed burning beginning in 2018.
Research has shown that burning enhances habitat for monarchs by stimulating the growth of milkweed and a wide diversity of important nectar plants. Researchers from the University of Texas and Oklahoma State University are setting up plots on Wagley Ranch to further test the effectiveness of burning on enhancing monarch habitat. For example, they are testing for how burning at different times of year affects habitat quality.
During the HQT testing at Wagley Ranch, we had the chance to see southward migrating monarchs. We even saw one monarch feeding on an eryngo (aryngium leavenworthii) plant. I look forward to returning to Wagley Ranch to assist in restoration and monitor results. Hopefully we will see more monarchs at Wagley Ranch during future visits!
September 29, 2017
The field team and I had a busy two days at Shield Ranch, where we completed fall habitat testing on four restoration areas totaling over 1,000 acres. We discovered that milkweed appears to be abundant at Shield Ranch, so restoration activities will be focused on enhancing the abundance and diversity of the monarch butterfly's desirable nectar plants. To do this, we will implement prescribed fire on all of the four restorations areas over the next three years and also work with the landowners to integrate cattle grazing practices that protect restored monarch habitat.
Shield Ranch is located near Austin, Texas, and the landowner is excited to have the ranch be used as a demonstration site for monarch habitat enhancement and restoration. This offers a wonderful opportunity to engage other landowners and conservationists in how to apply new restoration tools and approaches to improve outcomes for monarchs.
September 19, 2017
One of our most exciting field visits this fall was to the Winters-Wall Ranch, where owners George and Amy Greer have been actively engaged in both the science testing of the Habitat Quantification Tool and in promoting the benefits of the Monarch Butterfly Habitat Exchange.
Our two-day visit to the ranch included one day of habitat testing and discussing management activities, and another day of shooting broadcast video footage to send to various television networks. This will help us promote the Exchange to find other ranchers interested in participating, and it helps encourage citizens and other private partners to invest. As a trained biologist, Amy is extremely helpful in conducting the field tests and in communicating about benefits of managing ranchlands for wildlife.
Amy and George will be focusing restoration activities on a 400 acre area where we will use a mix of prescribed fire and adjusted cattle grazing to enhance the abundance of wildflowers for monarchs to feed on. We are all looking forward to seeing the restoration area turn into a more vibrant and diverse ecosystem for monarchs and other wildlife.
September 12, 2017
In early September, Texas was still recovering from Hurricane Harvey, so our field visits were pretty wet! But that didn't keep us from running our Habitat Quantification Tool (HQT) at Elm Ridge Ranch. This ranch is one of the sites where we were able to apply the HQT in both the spring and fall seasons, which gives us a full baseline assessment for the project. It's important that we run the HQT in both seasons, since monarchs have different habitat needs at different points in their migration (spring is more important for breeding and fall is more important for nectaring). Now that we have established baseline scores for both seasons, we can set goals for increasing these scores through restoration.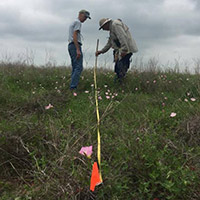 The baseline scores for the restoration site at Elm Ridge Ranch were similar for the fall (40%) and spring (39%). The scores are a percent of what would be considered perfect monarch habitat (100%). So we have an opportunity to increase these scores for both seasonal habitats.
The biggest opportunity for improvement at Elm Ridge Ranch is increasing milkweed (we only came across one plant during our visit) and increasing the diversity of wildflowers. Much of the pasture was overgrown with invasive grasses, so to improve habitat quality, we will be doing a combination of mowing to reduce competition from grasses and transplanting milkweeds. Over time, we will reapply the HQT to see how the scores improve, and how monarchs benefit.
September 6, 2017
Rust Ranch is one of the smaller restoration projects we are working on, focusing on 40 acres of pasture in an area that has a history of overgrazing. Fortunately, the landowner tries to implement at least one project to improve the health of his land each year, so the Monarch Butterfly Habitat Exchange gives him a chance to do this. He is particularly excited about the benefits that this project will have on soil health and to help manage invasive vegetation.
To improve habitat quality, we will be doing a combination of mowing to reduce competition from grasses and transplanting milkweeds. The plan is to plant milkweed plugs next year, with seeds that are locally harvested. Having local ecotypes is important when selecting milkweeds, since you know that the plants evolved in similar environmental conditions and will therefore have a higher likelihood of successful establishment.
We currently have a contractor, Randy, who has been propagating local milkweed in his greenhouse and has sent some great photos of how they are progressing. I look forward to returning to Rust Ranch to plant these plugs next year!
April 17, 2017
This was not my first visit to Wagley Ranch and it certainly won't be my last. My previous visits to this cattle ranch near Mineral Wells, Texas were for the purpose of conserving another species – the endangered golden-cheeked warbler.
For the past 15 years I've monitored these birds in the oak-cedar woodlands at Wagley Ranch, and have found the population here to be very stable. This is reassuring from a conservation perspective, since this particular ranch represents the warbler's furthest known breeding location in the northern portion of its range.
Wagley Ranch not only has terrific habitat for golden-cheeked warblers, but also a great deal of potential habitat for monarch butterflies and other pollinators on the ranch's pasturelands. When I told the owners about the Monarch Butterfly Habitat Exchange and our interest in improving habitat quality for monarchs in a way that was compatible with their cattle operation, they expressed keen interest.
We spent two days at the ranch and made good use of our time. Both mornings we conducted golden-cheeked warbler surveys and spent the afternoons scoping out ideal sites for monarch butterfly habitat. As we drove around the ranch, we noticed pockets of high flowering plant diversity but also recognized in a few locations that some form of management was necessary to reduce competition from woody vegetation and non-native grasses. A great tool for doing this on a large scale is prescribed fire. Plus, it helps maintain the pastures in good condition for livestock.
Before we returned to Austin, we used our monarch butterfly Habitat Quantification Tool (HQT) on an area that was burned six months earlier. We found three milkweed species and wildflowers in every color of the rainbow. It was clear to us, and evident in the HQT score, that the fire resulted in high quality habitat for monarchs and pollinators. With costs covered in part by the Monarch Butterfly Habitat Exchange, it is possible to replicate this habitat outcome throughout much of the rangeland areas of the ranch, making room for many more monarchs to benefit from this critical habitat.
March 27, 2017
With the first version of the monarch Habitat Quantification Tool (HQT) now finalized, we have transitioned our focus to selecting a handful of ranches in Texas to begin piloting the Monarch Butterfly Habitat Exchange. Throughout this year-long pilot phase, we will work closely with landowners to better understand their needs and values so as to create the best possible program for them.
Our first stop this spring was Elm Ridge Ranch, a 530-acre ranch situated in the Blackland Prairie region. Once covered by vast expanses of grasses and wildflowers, this area of Central Texas has been adversely impacted by land conversion over time. Today, less than one percent of native prairie in Texas survives, making this region a high priority area for the Monarch Butterfly Habitat Exchange.
We met the owner of Elm Ridge Ranch, Anne Brockenbrough, a few months prior to this visit and upon hearing about the Exchange, she enthusiastically told us "You're in the right place! There are wildflowers and milkweed everywhere around here!"
We walked around her property and identified a pasture that seemed perfect for the Exchange. This particular pasture had not been grazed for several years and it seemed as though there was plenty of room for improvement for monarchs and pollinators; but to know for sure we needed our HQT.
So, on the cloudy morning of March 27, we headed back to the familiar pasture with PVC quadrats and wildflower field guides in hand and got to work. Our objective was to use the Monarch HQT to better understand the current value of the area for monarchs. We broke up into three teams and used our GPS units to navigate to 10 points that were randomly distributed throughout the pasture. A recent change to the field protocol for the HQT as a result of previous field testing is to pace transect distances rather than using transect tape, which has turned out to be a real time saver! After several hours of hard work, we completed the task and were ready for some hard-earned lunch.
Anne joined us for a picnic under a beautiful live oak tree with an astonishing view of the Hill Country. We chatted about the various flowers and wildlife we encountered. She was interested in how we would use the data we collected, so I pulled up the HQT calculator on my computer and explained how it works. We ended with a discussion about potential restoration activities for the pasture that we could help fund, and Anne was thrilled by the opportunity to participate.
Now back at our desks, we are drafting a management plan and calculating the costs of restoring the pasture. We look forward to returning in the fall to assess the pasture when monarchs are flying south toward Mexico for the winter. Then the restoration begins!
October 18, 2016
As monarch butterflies have returned to Texas on their fall migration south, so have my colleagues and I to Shield Ranch for another round of field testing for the Monarch Butterfly Habitat Exchange. Shield Ranch is a 6,000-acre property devoted to responsible cattle management and wildlife conservation. We previously visited the ranch in June and I blogged about our visit.
Texas offers a lot of potential habitat for monarchs, being a critical layover on the species' annual migrations north and south, and having a number of landowners willing and eager to find a solution for the iconic butterfly's decline. Many of them are the same landowners who previously participated in an exchange-like program for the golden-cheeked warbler. That program enrolled 20 local landowners in conservation activities, together earning a total of nearly $2 million in new revenue.
During our visit to Shield Ranch, we saw dozens of monarchs and other butterflies, as an unusually high amount of rain in August sparked a profusion of fall wildflowers in central Texas. With targeted conservation funding through the Monarch Butterfly Habitat Exchange, we are working rapidly to make progress on the ground. You can read more about our return visit to Shield Ranch in my latest blog.
July 13, 2016
Testing the Monarch HQT at Shield Ranch
This week my team and I traveled to Davis Ranches in Colusa, California to test the habitat quantification tool for multiple species, including giant garter snake, Swainson's hawk and monarch butterfly. We divided up into three teams and spread out across the property to test each species' habitat. I was pleasantly surprised to not only find some fairly high quality milkweed habitat for monarchs, but also to see some monarch caterpillars, butterflies and even a monarch chrysalis! Carl Stenoien, a Ph.D. candidate at the University of Minnesota who works with Dr. Karen Oberhauser at the Monarch Lab, joined us today and told me that he has only seen three chrysalids in his lifetime, so it was quite a treat to see one in person. The chrysalis represents the third stage of the monarch life cycle, after the egg and larvae (caterpillar) stages, before becoming an adult butterfly.
Since we saw various stages of the monarch life cycle—eggs, caterpillars at various growth stages, chrysalids and adults monarch—all in one milkweed patch, that means that multiple monarchs visited this site at different times. Given the size of the ranch, which spans thousands of acres, it's pretty impressive that so many monarchs were attracted to this tiny roadside patch! This is a promising sign that the habitat on Davis Ranches is serving the species well.
The test itself took about three hours, in which we were able to lay four transects and count the number of milkweed stems in each transect. The number of stems ranged from zero to four in each transect. We took some extra time to count as many stems as we could and counted 337 stems. With a few additional conservation practices, such as avoiding mowing during times of high monarch activity or planting native flowering plants for nectar sources, this habitat could be enhanced to support even more monarch butterflies in the future.
May 16, 2016
Testing the Monarch HQT at Shield Ranch
Earlier this week I was standing in a field of wildflowers on Shield Ranch less than 20 miles west of downtown Austin testing our monarch butterfly habitat quantification tool (Monarch HQT) when I heard an endangered golden-cheeked warbler sing from a nearby canyon. Shield Ranch is roughly 6,000 acres devoted to wildlife conservation and responsible cattle management, which is surrounded by the suburbs of Austin. You can literally see the rooftops of hundreds of houses from various high points on the ranch. Hearing a golden-cheeked warbler sing in that setting was yet another reminder to me of how vital working lands are to conserving at risk species like the monarch and the warbler.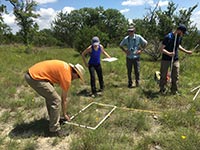 What's involved in testing the Monarch HQT? At the moment it's fairly simple: Our team uses proven vegetation measurement techniques such as transects and quadrats to determine milkweed and nectar plant density and diversity in areas that are targeted for restoration and conservation. Put simply, we lay out a tape measure for about 75 feet (a transect) and then we place a 1 meter by 0.5 meter rectangle made of PVC (a quadrat) next to the transect at set intervals so as to sample the vegetation. The results will tell us the suitability of a particular area for monarch breeding and nectaring. This information is important in two key ways: It informs us as to the management that is needed to restore, enhance and maintain monarch habitat and it tells us how many credits a farmer or rancher has to potentially sell through the Monarch Habitat Exchange.
What's next? Our team will be traveling to the Central Valley of California sometime in late June for further testing of the Monarch HQT. Stay tuned for the next Notes from the Field!
April 29, 2016
Here in North Texas, wet weather has resulted in a spectacular display of spring wildflowers including vast expanses of the milkweed and nectar plants that monarchs need to survive and thrive.
To help guarantee the monarch's future EDF is now embarked on development of a Monarch Habitat Exchange, which is designed to inspire vast numbers of farmers and ranchers to restore breeding and nectaring habitats and thereby reverse the current downward trend of monarch populations. The restored habitat is valued in the form of monarch habitat "credits". We measure these credits using a "habitat quantification tool" or HQT and I have been working with the wonderful folks at the Monarch Lab at the University of Minnesota and Environmental Incentives for the past five months on this HQT.
We are now ready to field test the HQT and our first stop will be Shield Ranch in central Texas. This nearly 5,000-acre ranch, which is located in western Travis County (home of Austin, Texas!) has an active cattle operation, but is also home to the federally-endangered golden-cheeked warbler. We believe it also has great monarch butterfly habitat due to its wildlife-friendly grazing practices. Our team of expert scientists will be there on May 10 for the first field test of our Monarch HQT. Check back in soon for the results!
Map
For EDF members and activists, there's widespread love for monarchs from Hawaii to Maine.
With this map, you can move around the U.S. to find stories from your own community, or a look at EDF's work in the field.
Your Stories
EDF in the Field
What's Your Monarch Butterfly Story?
Adopt a Milkweed Acre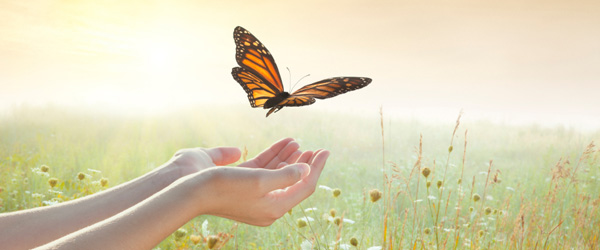 You can help us reach our goal of 2 million acres of monarch butterfly habitat protected by adopting a milkweed acre for just $35. The more you give, the more habitat you restore.
Bring the monarch back from the brink of extinction with a tax-deductible gift today
EDF consistently earns top charity ratings.