Highlights
New Yorkers who had never before been involved with politics showed that people who engage have the power to create major change.
Soon, cars traveling in congested parts of Manhattan will pay a toll fee to reduce traffic and raise funds for New York City's troubled subway system.
It took an all-out grassroots effort to get state politicians to agree to this — including exasperated riders calling lawmakers from crowded train platforms.
In the fall of 2018, subway riders in New York City found an unexpected outlet to vent their frustration with perpetual train delays and breakdowns. Activists with the city's Riders Alliance were fanning out across the city's vast subway system, carrying cell phones on speed dial to the state legislature 150 miles away.
"Tell your lawmaker what it's like to wait forever on the platform," they told surprised commuters. "They need to hear from you."
The subway calling campaign alone can't be credited for New York state's historic decision to implement congestion pricing in Manhattan, a toll program expected to raise $1 billion annually toward much-needed subway repairs while cutting air pollution by 20%. There is no question, however, that the thousands of calls subway riders placed to lawmakers over the course of several months had an impact.
It proved to those of us involved with this effort — and to New Yorkers themselves — that when people at the grassroots level get organized and speak up, things begin to happen. Things you might not think are possible.
"Are you the ones calling our office all the time?"
Citizens who had never before called their state representatives were suddenly giving elected officials an earful about commuters being late for work, unable to pick up kids on time, or struggling to find time to grocery shop because of NYC's chronic subway delays.
Some lawmakers got annoyed. When we visited the state capitol last fall to advocate for congestion pricing, they would stop us in the hallway to ask, "Are you the ones calling our office all the time?"
In the end, however, politicians who had opposed the measure for years began to warm up to the idea. Rather than looking at congestion pricing just as a financial penalty and hardship for drivers, they gradually realized that it would bring a huge return for NYC's 6 million subways riders — and, importantly, that viable public transportation was critical to the city's economy.
On March 31, 2019, the New York State Assembly made The Big Apple the first urban area in the country to assess a fee for drivers in congested areas.
How angry subway riders helped to get NYC's congestion pricing plan across the finish line.
Under the plan, which goes into effect in 2021, drivers of passenger cars will be charged between $12 and $14, and trucks $25, each time they drive into the lower half of Manhattan — a small price to pay to make NYC function more efficiently. By doing so, they will give the world's oldest subway system, which opened in 1904, a new lease on life.
Why now?
My organization had worked with leaders in the transit, social justice, business, and finance area for more than a decade to get congestion pricing passed, modeling our proposal from similar programs passed in other nations.
A push in 2008 by former NYC Mayor Michael Bloomberg to implement such a plan had failed and our efforts seemed to go nowhere.
That's until 2017-18 when the subway system was plagued with ever more problems and people took to social media to complain. Around the same time, small business owners began to demand a solution because subway delays affected their revenue stream, and then subway riders were flooding legislative offices with phone calls.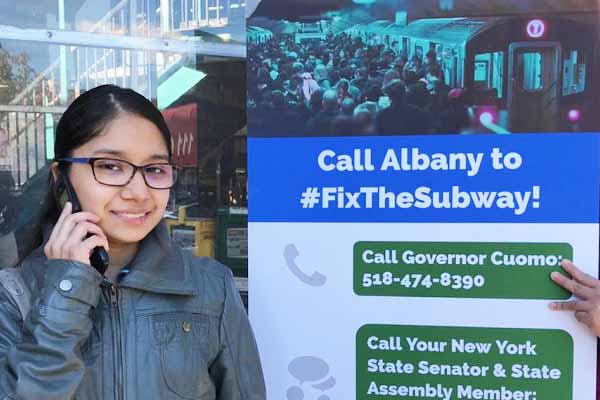 Making people pay for something that used to be free is difficult. To accept that, they must believe they're getting something of value in return.
In this case, they will be. Besides generating $1 billion in revenue annually to fund subway repairs, the plan will create more than 30,000 jobs once the plan is operational.
The Fix Our Transit campaign was thoughtful and strategic, and came at just the right time. 
As always, the devil is in the details. An essential next step now is to ensure that the congestion pricing program, once implemented, delivers on the promise of environmental performance and transit improvement.
What democracy looks like
The 2018 congestion pricing victory proved that when you get the right information into people's hands at the right time, you can make a huge difference. An unprecedented coalition came together to spur action.
NYC's congestion pricing plan, America's first, will raise billions for critical subway repairs — and cut climate pollution along the way.
This kind of direct outreach was essential to give political voice to the millions of people on the transit system every day. We were informing the electorate, animating our democracy and getting result — but it was ultimately citizens who got congestion pricing across the finish line.
Act when it matters most
Every day more than 60 people sign up for news and alerts, to find out when their support helps most. Will you join them? (Read our privacy statement.)
Donate to support this work
---