As a non-political scientist I don't march – until now
Editor's note: This post was updated on April 11, 2018.
Because I'm a scientist, politically-motivated public demonstrations are far outside of my comfort zone and actually against my nature.
I left academia to pursue scientific research that informs climate-related decision-making, but working for a science-based organization that's committed to scientific integrity remains a requirement of mine. I have a strong desire to remain apolitical and a commitment to follow the data where it takes me, regardless of the outcome.
So it was out of character for me to join my life's first politically driven march in Washington, D.C., in April 2017 – and to be gearing up for the next public protest a week later.
I turned down protests, until…
I'm a scientist and I don't want my objective agenda to be fettered by any political agenda.
It's why I didn't attend the People's Climate March in New York City in 2015, even though I lived in the area. And why I skipped this year's Women's March in Washington, although I now live outside D.C.
But something changed during the first several weeks of Trump's presidency. Science was under attack, and this was not okay.
It crossed a line for me.
Let's face it: Science and policy intersect
I originally became a scientist to make the world a better place, and I realized over the last few months that I could not stand idly by as science was rejected and threatened. As I watched fellow scientists and critical institutions crumble, I vowed to speak up.
As the 2017 March for Science drew closer, however, I found myself wrestling with a nagging question: Am I okay with politicizing science? Would I undermine my scientific credibility by involving myself in a political rally? 
Through that internal struggle I came to realize that while science itself is and remains apolitical, it is crucial for guiding policy. And therefore the protection and support for scientists and research institutions is what I would be marching for.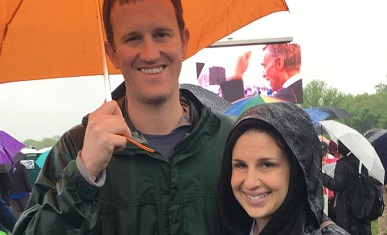 Even my scientist husband who stays away from politics even more than I do, woke up that Saturday and surprised me with his announcement that he would march, too.  
We joined tens of thousands in Washington in support of science because science answers important questions about the world around us, such as telling us that climate change is real, human-caused and an urgent challenge.
And we marched again a week later in the People's Climate March – so that we can take that warning from science and urge the government to take action to address climate change.

How a groundswell of citizen activism helped save the EPA