Is Alaska, another oil state, the next frontier for climate action?
On a recent flight to Anchorage, Alaska, a man in the seat next to mine mentioned that the city only had two "bad" days of winter this year. Temperatures had hit a remarkable 70 degrees in March.
That was just the start. The following day, a boat captain noted that red salmon had arrived three weeks earlier than normal. And over the course of my trip, several people told me things like, "The last few winters have been the warmest I can remember."
It struck me how similar these conversations were to those I've had with people in my home state of Texas. Except at home they speak of severe drought, hotter summers and extreme floods that seem to be occurring more often.
And just like in Texas, climate change is hitting vulnerable populations in Alaska harder than most.
The "melting glacier tour" no joke
I saw the most dramatic physical evidence of climate impacts on my Kenai Peninsula boat trip when we passed by Bear Glacier. This glacier marks the start of Kenai Fjords National Park, and it's the largest glacier in the park at 13 miles long.
Before I left for Alaska, I had jokingly referred to it as the "melting glacier tour." But it wasn't so funny when I saw the evidence: This magnificent natural formation is receding rapidly.
With increasing average annual temperatures between the 1950s and 1990s, Bear Glacier retreated about one mile, creating a lagoon. Then, between 2000 and 2007, it retreated an additional two miles, releasing floating icebergs into the lagoon.
Making matters worse, in 2014, an outburst flood made the lagoon overflow into nearby Resurrection Bay. All this is having a direct impact on people living in Alaska.
Towns fleeing rising ocean water
The state is likely to see the first American climate refugees.
The 400-person town of Kivalina, home to the Inupiat people, and neighboring Newtok, where 350 Yupik residents live, must be moved as their homes and livelihoods will soon be under water.
As U.S. Secretary of Interior Sally Jewell noted, these towns are "washing away."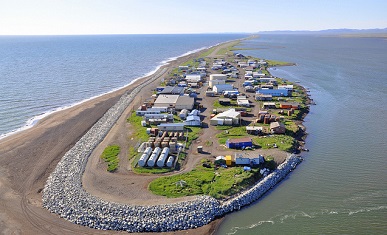 The cost of the relocation could be as high as $200 million per town, and expenses could rise in coming years with 29 other towns in imminent danger. The cultural and social cost to the families that must be uprooted from their homes is immeasurable.
An unsustainable boom-and-bust oil economy
How is the state dealing with this remarkable challenge? The oil part of the equation makes dealing with climate change-related weather impacts even thornier.
Alaska state budgets rely heavily on oil revenues, with all its ups and downs. In 2014, 90 percent of Alaska's state budget came from the industry. The following year, it dropped to 75 percent – a huge loss resulting from the recent oil price tumble.
That means there's less of a buffer to pay for things like the relocation of communities, or to offset revenue loss from fisheries and other industries affected by climate change.
The reality is, heavy reliance on oil is no longer sustainable from an economic or environmental perspective.
Frontier spirit can help Alaskans beat the odds
Fortunately, one of the hallmarks of frontier-spirited states such as Alaska is adaptability.
Embracing cleaner energy sources is one way the state is beginning to prepare for a more resilient future – and it can look to another oil state for inspiration and know-how.
So I was not surprised when I looked out the airplane window as we departed Anchorage and saw rows of wind turbines spinning against majestic, snow-covered mountains.
Alaska's frontier, can-do attitude can help the state's vulnerable populations and all Alaskans prepare for a safer, healthier future. Now's the time to do so.