Believe the hype: The Environmental Protection Agency's Clean Power Plan is as much a plan to bolster the economy as it's a move to protect the health of people and our planet.
More and better jobs, lower electric bills and increased energy innovation are just a few ways this new law would at long last limit pollution from power plants while capitalizing on an unprecedented economic opportunity. We're already starting to seize the moment.  
Just this week, The Huffington Post reported that three times as many companies are putting a price on their own carbon emissions this year compared with last.
"Contrary to conventional belief, companies would welcome regulatory certainty and are planning for mandatory emissions limits in the future," noted a representative of environmental data nonprofit CDP, which conducted the research.
The Clean Power Plan will thus propel further investment, incentives and mechanisms that decarbonize our economy and usher in a new generation of industries. Just follow the money. 
Billions in investments boosting jobs, growth
Wind energy is on a roll in the U.S. with 8.3 billion invested in 2014. In many states, wind development is the lowest cost compliance option, Morgan Stanley reports. The investment firm also predicts that financing of utility-scale renewables will ramp up considerably once the Clean Power Plan is implemented.
What's more, investments in the clean energy sector enjoy a better-than-average payoff. One dollar invested today creates three times as many jobs as a dollar invested in fossil fuels.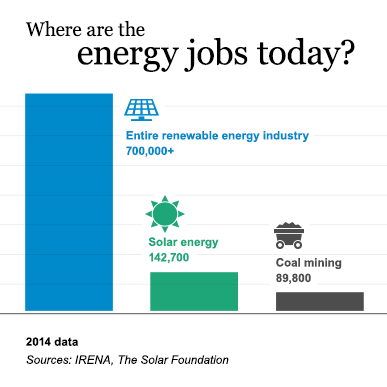 In California, where the state's carbon pollution reduction law AB 32 has now been in effect since 2012, clean tech jobs have grown ten times faster than any other sector over the last decade.
As AB 32 brought jobs (and billions in venture capital investment) to California, so too will the Clean Power Plan bring gains to the rest of the country.
The juicy factoids above come by way of my colleague Jim Marston. His recent post on EDF's Energy Exchange blog is ripe with additional evidence previewing the financial success we can expect with the Clean Power Plan.
Here's another one: The new law could result in $155 billion in electricity savings between 2020 and 2030. This will help American families save on average $85 a year on power bills – money they can pump right back into our economy.