Watching the State of the Union with the First Lady
Of the tens of millions of people watching President Obama's State of the Union last night, few had a better seat than Tyrone Davis. A former EDF Climate Corps fellow, the current third-year student and Leadership Fellow at Elon University School of Law was invited to join First Lady Michelle Obama and her other guests to listen as her husband addressed congress and the nation. I spoke with Davis about the experience the morning after the address.
"This all started at 5am one morning when I was in Hong Kong for a school trip, looking at business and legal problems that some companies face doing business in China," Davis explained. He woke to a phone call from EDF's Victoria Mills, who let him know he should be on the lookout for a call from the White House. He may have been groggy, but his excitement cut through the fog.
"The Council on Environmental Quality was looking for possible stories to highlight, and EDF passed along a group of Climate Corps stories, including mine. The Council thought my experience as a fellow with Elizabeth City State University (ECSU) in 2010 aligned with some of the President's themes for the State of the Union," Davis said. "Last Friday I received a call inviting me to be one of the First Lady's guests at the address. It was unreal to hear those words." As you would expect, Davis didn't have to check his calendar. "I'm thinking, 'I'm free for this!'"
Davis had the opportunity to meet the President and Michelle Obama on the Hill, and he was impressed by their warmth, generosity, and sincerity. When Davis offered the First Lady a handshake, she turned it into a hug. During the address itself he was pleased to see the President address the challenges of climate change on a national stage, and he was most moved by the President's focus on the need to continue to fund research for renewables:
"Every four minutes, another American home or business goes solar; every panel pounded into place by a worker whose job can't be outsourced. Let's continue that progress with a smarter tax policy that stops giving $4 billion a year to fossil fuel industries that don't need it, so that we can invest more in fuels of the future that do." – President Obama, January 28, 2014
When I asked him what will be the most enduring memory of the evening, Davis said that it was meeting and speaking with everyone at the reception that followed, from EPA employees to the other guests of honor. "They set big goals, and they're ambitious about achieving them. They're not afraid to pursue tough issues, and I admire them." Earlier in the day he had the opportunity to meet with EPA Administrator Gina McCarthy, and she too enjoyed the meeting: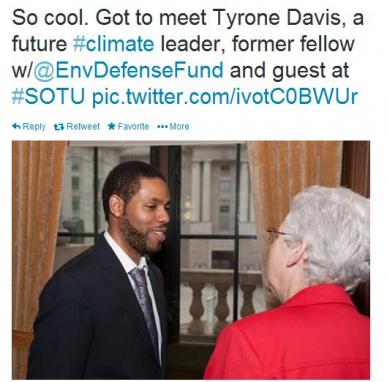 As a former EDF Climate Corps fellow, Davis is no stranger to ambitious goals. Since the program began in 2008, fellows have uncovered opportunities that could save nearly $1.3 billion in energy costs, cut the electricity of 180,000 homes and avoid the yearly carbon emissions of 260,000 cars. It's not just about changing light bulbs, it's about large-scale improvements: During Davis's fellowship he showed his host school how to achieve savings of more than $31,000 a year, which could avoid nearly 200 tons of carbon emissions reductions annually. 
He spoke fondly of his time as a fellow: "My dream job is doing something related to climate issues. The fellowship program had high expectations, but I received excellent training and a lot of help during the 10 week program. I never felt alone. EDF offered a lot of help; they made it easy to succeed."
If your organization or someone you know could use help identifying and implementing clean energy management solutions like Tyrone's, check out EDF Climate Corps on our website or learn more on our upcoming webinar on February 31 at 12pm ET.