What would save thousands of lives and fight injustice?
The answer, according to a new EDF report, is stronger limits on a tiny but toxic kind of air pollution.
Take a deep breath.
Depending on where you live, the air you breathe may contain tiny bits of dust, soot and toxic chemicals. This invisible pollution — known as fine particle pollution — is smaller than a human hair and easily bypasses your body's defenses to burrow deep into your lungs, some even reaching your bloodstream.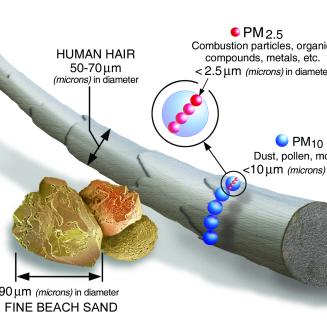 "Fine particle air pollution is responsible for more than 110,000 deaths in the U.S. each year from heart attacks, strokes, diabetes and respiratory diseases, and those harms are not distributed equally," says Ananya Roy, a health scientist at Environmental Defense Fund.
In a new report released by EDF, scientists found that this kind of air pollution, primarily generated by burning fossil fuels, is especially rampant — and deadly — in Black, Hispanic, and low-income communities. The most startling statistic? Black seniors in the U.S. are three times more likely to die from exposure to fine particle pollution than everyone else.
This isn't a coincidence. A history of racist zoning policies and underrepresentation in positions of power quite literally shaped American cities, putting highways, power plants, and other sources of pollution closer to Black, Hispanic, and low-income communities. 
But there is a way for all of us to breathe easier. The Environmental Protection Agency could tighten its standard for fine particle pollution in the U.S.
EPA officials are currently reviewing the standard — which is set at 12 micrograms per cubic meter — and are expected to propose an update this summer. These standards have not been updated in nine years. Ignoring evidence of health harms, the Trump administration rejected tougher standards on air pollution. 
In response to more protective standards, state air quality planners would put measures in place to reduce pollution.
EDF scientists have found that lowering the standard to eight micrograms per cubic meter would save at least 19,600 lives per year and reduce the incidents of heart and lung disease caused by this toxic pollution.
"This report underscores the importance of the U.S. Environmental Protection Agency strengthening our national protections against fine particle pollution," says Roy. "Stronger standards would have significant health benefits for all of us and take a step toward fighting inequities."