Tech, talk and ideas: The 6 coolest climate finds at SXSW
We scoured the Austin mega festival for the most intriguing people, innovations and events. From the sublime to the ridiculous, here are a few of our faves. (Part 1)
If you're looking for hope in the climate crisis, Texas may not be the first place you'd search.
But this March, that's where we found it.
We fanned out across South by Southwest — the Austin-based mega festival and hotbed of culture, technology and ideas — to eat tacos, rub shoulders with the brightest minds, and seek some salve for our climate woes. 
From the inspiring to the surprising to the downright weird, the ideas and innovations we encountered proved — yet again — that the human will and energy needed to tackle the climate crisis is alive and well.
Most humbling moment: The climate wunderkinds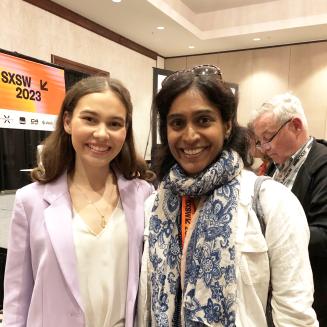 It's not totally unexpected to meet someone at SXSW who's doing something weird in their garage — but building a nuclear fusion reactor? Or growing bacteria that can make pure hydrogen? And, these inventors are 16 and 17 years old?? They're part of The Knowledge Society, an accelerator program that connects kids with mentors and cutting-edge technology and then sets them loose to solve big problems. These teens are tackling the climate crisis with passion and sophistication — from an AI platform that can speed up grid modernization in the U.S. to a project converting South Africa's used tires into clean energy. These kids are going to take over the world, and hopefully soon.
Elsewhere, I ran into Nalleli Cobo, the Los Angeles clean air activist, cancer survivor and Goldman Environmental Prize winner who led the coalition that shut down a polluting oil drilling site in her neighborhood in 2020, when she was just 19. Cobo says she plans to run for president after she comes of age in 2036. — Shanti Menon, Energy editor
Most inspiring speaker: Energy Secretary Jennifer Granholm
While it's unlikely that this is a requirement to lead the U.S. Department of Energy, when Jennifer Granholm took the stage to discuss America's clean energy future, she was electric. Granholm bounded around the stage, walking her audience through the Biden administration's ambitious goals for clean energy. She talked about what we can do now, like installing heat pumps and capitalizing on funds from the Inflation Reduction Act, and technology just on the cusp, like batteries made from dirt and silicon and the potential of floating offshore wind farms. Granholm dished out a hopeful optimism that felt like a theme running through SXSW. — Jordon Brown, Web editor
Another vote for Granholm: Climate anxiety among young people is at an all-time high. As a member of Generation Z, I feel concerned about the future of our planet regularly. While it might be a stretch to say Granholm cured my climate woes, hearing from inspirational, forward-thinking leaders like her is critical to keep my generation hopeful that we can solve the climate crisis. Fresh from her visit to a local solar project in Puerto Rico, which the Environmental Defense Fund helped realize, she underscored the importance of bringing both energy security and energy justice to frontline communities. "We are grateful to be in partnership with EDF and others to make this happen," she told us. — Elena Berryman, Social editor
Best science talk: Is hydrogen energy hype or hope?
Set up a news alert for the word "hydrogen" and EDF climate scientist Ilissa Ocko warns you'll be inundated with dozens of headlines touting it as the clean "fuel of the future."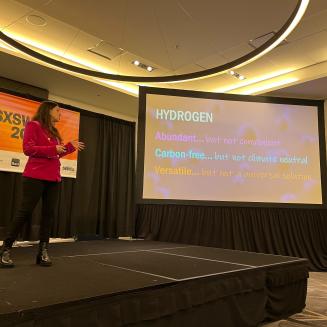 Is that climate hope? Or simply hype? Ocko broke it down like this: Yes, hydrogen has amazing potential. But it needs to be rolled out with caution. It's a leak-prone gas — and even tiny leaks can actually cause global warming. That's caveat number one. Number two is that hydrogen fuel requires a tremendous amount of energy to produce, and where we get that energy from matters. Right now, hydrogen is primarily produced from fossil fuels. But even if we were to produce it from a cleaner option, like water — H2O — by breaking apart the oxygen atom from the two hydrogen atoms, we'd still need a tremendous amount of energy. If that energy comes from fossil fuels, well, then hydrogen isn't as climate-friendly as it's made out to be. That's why, in many instances, it's more efficient to just use that clean energy directly for power. The take-away? Hydrogen isn't a silver bullet. But it can help decarbonize sectors that can't be electrified and run on renewable energy. — Vanessa Glavinskas, Climate writer
Most unusual form of carbon storage: Elephants
There are many ways to capture carbon dioxide and store it. But it's probably fair to say that none of them are as cute as a baby elephant. Yes, elephants are walking carbon storage mechanisms, says National Geographic explorer and filmmaker Sangita Iyer. A single elephant stores 2.4 tons of carbon in its massive body alone, and creates another 94 tons of carbon storage in forests simply by eating. When elephants forage, they strip out soft understory growth and encourage hardwood species that store more carbon to flourish. If you were looking for another reason to protect these magnificent animals, add carbon sequestration to the very long list. — SM
Tastiest climate solution: Mycelium
Mycelium. That's the buzzword du jour among climate-conscious foodies. What is it? The dense, fibrous root system of mushrooms — and it has a texture that bears a striking resemblance to meat. The company Meati markets it as a chicken and beef alternative with a lighter carbon footprint. It's not only a complete protein, it's also naturally packed with many of the nutrients found in animal protein like iron, B vitamins and zinc. We tried the breaded "chicken" version on a bun with a pickle and some habanero-flavored Pop Rocks (those were a surprise) and dare we say it was better than the typical spicy chicken sandwich at any fast-food restaurant. Right now, only Sprouts carries Meati, but the company has a national roll-out planned across the U.S. later this year. — VG
Sweetest message: Climate hope with a cherry on top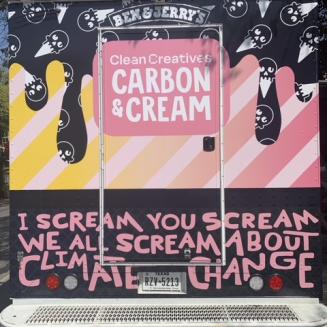 The perfect dessert after a dinner of doom and gloom, is two scoops of optimism. That's exactly what Clean Creatives served up at the Carbon and Cream ice cream truck. Clean Creatives is an advertising group that wants to see fossil fuel advertisements go the way of the Marlborough Man. The concept behind the truck is simple: use cleverly named ice cream flavors to call out the world's biggest carbon polluters (we all know who they are, so I won't waste any of my precious 150 words naming them here). The ice cream was delicious. But it was the combination of passion, purpose and wit behind the project that made me want to hear this ice cream truck's music in the streets of my neighborhood this summer. — Mia Bechak, Social editor
Another sweet encounter: Hearing Dr. Leah Stokes share stories about the climate crisis on her podcast, A Matter of Degrees is a weekly delight. But listening to her passionate voice in person was even more so. Her inspirational presentation, "The Future is Electric" focused on clean energy solutions that will be instrumental in fighting climate change. An even sweeter treat was chatting with Leah over a cup of ice cream at the Carbon and Cream truck. We talked all things SXSW and climate and then Leah introduced us to the brilliant Katharine Hayhoe with, "These are my friends from EDF!" It was hard to keep our cool, especially in the Austin heat. — EB
And finally... When not running from event to event, we experienced a few "only-at-SXSW" moments:
Our 'Keep Austin Weird' moments
"Walking by the convention center we were unexpectedly accosted to be extras in a film. Not as glamorous as it may sound — the film was for the National Conference of Mayors and we were asked to 'walk away from the camera.' Hmmmmm." — VG and SM
"The chance to gain access to secret or exclusive events is part of the allure of SXSW. So when a cult-like group was marching around the convention center announcing the return of the Baba Yaga and holding placards of John Wick, I was intrigued. A QR code led to a text thread that gave you latitude and longitude coordinates, and once you raced over, you got tickets to the premiere of John Wick 4 — a movie that wasn't even on the SXSW schedule! Score!" — JB