You won't believe why you can tell the difference between Baltimore and Washington, DC from space
Despite just 41 miles of separation, one city glows white and one city glows orange.
The shot from high above Earth was otherworldly.
As the International Space Station passed over Baltimore and Washington D.C. on July 15, 2020, the crew snapped a photo that fascinated onlookers.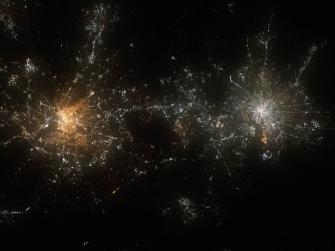 Despite being only 41 miles apart, Baltimore was bathed in a white glow. Our nation's capital was covered by an orange shroud. The color clash was so stark that crewmembers tweeted it looked "like two galaxies swirling near each other." But the contrast illustrated a major environmentally-friendly shift being embraced by cities nationwide to take on climate change one street lamp at a time. 
LED (light emitting diode) bulbs are long-established as energy-saving and cost-cutting alternatives to incandescent bulbs pioneered by Thomas Edison more than a century ago. LEDs also significantly cut carbon dioxide emissions and are sparking a revolution of sorts as cities seek to reduce their carbon footprint and do their part to tackle global warming. 
Baltimore was among the early wave of LED adopters when it rolled out its Bmore Bright initiative about five years ago. (D.C. has since launched a similar program). Los Angeles, Chicago, Atlanta, Philadelphia, Kansas City are also phasing out incandescent streetlights, a move that saves cities 40-50% on energy bills.  
LED technology doesn't waste light and allows for more focused lighting, thus casting a whiter shade than sodium bulbs. Sales of LED bulbs have surged in recent years, and that trend is likely to continue as the Biden administration recently included phasing out all incandescent lights as part of its climate plan to slash all harmful CO2 emissions by 2050. 
The environmental benefits of LEDs are clear. Studies show that 80% of electric energy from LED bulbs is converted to light with only 20% lost as heat; incandescents are shown to lose 80% as heat and emit 20% as light.  They also generally last 10 years longer than incandescents and are fully recyclable.
And the allure of next-generation LEDs goes beyond combating climate change, protecting the environment and paying smaller utility bills. 
Already, cities are using LED upgrade initiatives to explore the potential of "smart" streetlights fitted with sensors that can monitor pollution levels, alert neighborhoods ahead of dangerous storms or help people find evacuation routes during floods, wildfires and hurricanes.
A report by the firm Northeast Group estimated that cities will pump $8.2 billion into smart streetlight projects through the end of the decade. More than 90% of streetlights will be LED and 35% smartly connected in some way, the study claimed. 
Cities like Baltimore and Washington D.C. are making impressive strides, but there is plenty still to be done. A report from the Appliance Standards Awareness Project estimated that a billion sockets in the United States are still using incandescent bulbs.
Implementing higher government energy standards would further accelerate a move to LED technology, The Washington Post noted from the report. That would save consumers $20 billion and reduce CO2 emissions by  50 million metric tons by 2030 — the equivalent of taking about 10 million cars off the road for a year. 
Imagine that view from space!