10 of the least expensive electric cars you can buy today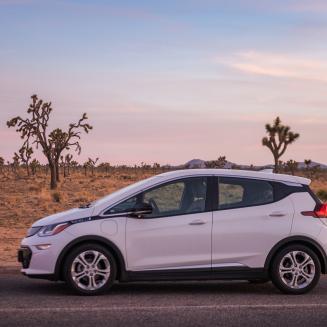 Thought electric cars were only for the rich? Think again. 
In February, the average U.S. non-luxury car (including both gas and electric) retailed for about $44,700. 
But there are at least 10 electric cars that cost less than that. And three electric cars that sell for under $30,000. 
Federal, state and local incentives and rebates can also trim thousands of dollars off an EV's sticker price. (Another pro tip: Leasing an EV might make you eligible for a larger federal tax incentive than buying one.)
In the market? Here are 10 electric cars you can buy on a budget.*
Chevrolet Bolt - $27,495
Fun to drive, great range and eligible for a full $7,500 federal tax credit. But get one while they're hot: General Motors is phasing out the Chevy Bolt by the end of the year.
Estimated range: 259 miles
Chevrolet Bolt EUV - $28,795
With room for five, the Bolt EUV is a larger version of GM's original Chevy Bolt. (But move fast: As with its little sibling, production is winding by the end of 2023.)
Estimated range: 247 miles
Nissan Leaf S - $29,135
The Leaf S is a great option for those who drive shorter distances and charge primarily at home.
Estimated range: 149 miles
Mini Electric Hardtop - $31,895
A zippy import, the Mini Electric gets kudos for its agile handling and quick acceleration.
Estimated range: 114 miles
Hyundai Kona Electric - $34,885
Consumer Reports raves, calling the Kona Electric "one of the best electric vehicles under $50,000."
Estimated range: 258 miles
Nissan Leaf SV Plus - $37,135
This second-generation Leaf gets high marks from reviewers for safety and practicality. 
Estimated range: 212 miles
Volkswagen ID.4 Standard - $40,290
Volkswagen's ID.4 SUV offers ample cargo space and three years of free charging at Electrify America's fast charger network.
Estimated range: 209 miles
Kia Niro EV Wind - $40,875
The Niro base package comes with driver assistance, heated front seats and a wireless smartphone charger. 
Estimated range: 253 miles
Hyundai Ioniq 5 - $43,235
Car and Driver calls the Ioniq 5 a "compelling choice for anyone taking the first swing at EV ownership." 
Estimated range: 220 miles 
Nissan Ariya - $44,525
A crossover SUV, the Ariya comes with important safety features, like blind spot monitoring and automatic braking.
Estimated range: 216 miles
* All prices are manufacturer-suggested and include freight. Estimated ranges use EPA data.