The Chesapeake Bay is the largest estuary in North America and is one of the most biologically productive areas on the East Coast. Roughly 200 miles long, 4 miles wide at its narrowest and 24 miles wide at its widest, the Bay has a watershed that extends across more than 64,000 square miles, encompassing portions of six states (New York, Pennsylvania, Maryland, Delaware, Virginia and West Virginia) and the District of Columbia.
The Chesapeake ecosystem is incredibly complex, home to an impressive diversity of habitats, plants and animals, and over 350 species of fish and shellfish. Most of these fish, both resident and migratory, use the Bay for a portion of their lifecycles.
Frequently called "an immense protein factory," the Chesapeake has historically ranked in the top tier of the nation's seafood production.
The challenge
Managing the Bay's fisheries for both environmental and economic sustainability is a critical step in restoring the Chesapeake Bay and in protecting the important role these fish populations play within the Bay's complex ecosystem. Of these fisheries, the blue crab holds immense ecological, economic, and culture significance.
The most valuable fishery in the state of Maryland, the blue crab fishery generated more than $43 million in 2009 in exvessel value alone. The iconic fishery creates more economic value and jobs for the state than any other commercial fishery; however, the health of the blue crab fishery has been wavering in recent years.
The historic health of blue crab stock has been full of inconsistency, risk and uncertainty. Although recent biological surveys demonstrate improved abundance levels, commercial crabbers continue to struggle in finding financial viability and sustainability in a consistently turbulent fishery.
The blue crab fishery is a highly complex fishery, from the unpredictable migratory patterns of crabs to diverse fishing operations among the fleet. Location, gear, license type and seasonality all drive what type of watermen and crabber you will be. One-size-fits-all regulations are often challenging in a fishery like blue crab where limits can adversely affect one part of the Bay more than another.
Giving watermen and managers the right tools
All successful businesses need strong markets and flexibility to adjust to changes in demand. Alternative management systems, such as catch shares, bring added flexibility and reduce regulatory complexity while simultaneously strengthening markets for seafood products.
These systems can be specifically designed to meet the goals of the industry while ensuring that managers are able to successfully continue to meet their responsibility to protect the natural resources of Maryland and provide for their responsible use. A system developed by watermen and supported by managers can offer a lasting solution to the Bay's fisheries challenges.
EDF recognizes that stewardship by a strong commercial fishing industry is essential to healthy fisheries and thriving coastal communities on the Chesapeake. As the business people who drive the industry, it is the watermen themselves who can set the course and return their industry to viability and health.
EDF is working to assist watermen in this effort by bringing information, resources, and a focused dialogue on seeking Chesapeake-tailored solutions to Chesapeake-specific challenges.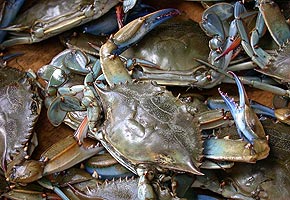 How we use economics
We create and shape markets to reward cleaning up, not polluting.