Belize: A path to sustainable fishing
EDF and local leaders lay out a plan to restore fish populations
Since the time of the Mayans, the fishermen of coastal Belize, in Central America, have plied the waters of the Mesoamerican Reef. This unique ecosystem parallels Belize's Caribbean shore for nearly 200 miles and harbors some 500 fish species.
Today, this traditional way of life, and the marine biodiversity that make it possible, are threatened by illegal fishing and overfishing. Local fishermen must work longer for ever-diminishing catches, and the rapid depletion of fish populations could cascade throughout the reef system and lead to ecological collapse.
Our goal: Use catch shares to restore fisheries
In response, Environmental Defense Fund launched its Mesoamerican Sustainable Fisheries Initiative, which will establish two catch share projects in Belize.
Our goal is to restore Belize's fisheries and renew its fishing communities through an innovative tool that fosters better fisheries management. Catch shares have been proven to rebuild fish stocks and provide economic benefits to fishermen. (Learn more about how catch shares work and the science behind them.)
The urgency behind these programs is real. As Eloy Cuevas, a Belizean fisherman and guide, says in the local creole dialect: "Catch Shares da di hope we got. if we wa continue have fish." ("Catch Shares are our best hope if we want to continue to have fish.")
Fishermen working harder for fewer fish
As overfishing and illegal fishing has depleted stocks of grouper and snapper, Caribbean spiny lobster and queen conch have become the economic anchors of Belize's wild-caught fisheries.
But lobster and conch, too, are in trouble. The Belize Ministry of Agriculture, Fisheries, and Cooperatives reports that the lobster catch from 1981 to 2006 fell almost by half. Fishermen up and down the coast report that their catches of lobsters have diminished not only in numbers but in size. Many say it now takes an entire season to catch what they once landed in a week.
Conch, too, are growing scarce. Fifty years ago, recalls one elderly Belizean fishermen, "you did not fish for conch; you rolled up your trousers and waded from the shore to collect conch" [interviewed for a 2005 study in the journal Ecology and Society]. But from 1972 to 2006, the conch catch has fallen from 1.2 million pounds to 699,000 pounds.
As a result, fishermen are turning to lower-value fish like parrotfish and surgeonfish, algae-grazing fish that help keep reefs healthy. Despite new laws to prohibit fishing of these species, they are already suffering from severe overfishing.
Building support for catch shares
In 2008, EDF's team began its foray into Belize to build stakeholder support for catch shares by:
conducting research and analysis to assess the state of fisheries,
working with government officials, including senior government ministers,
meeting with fishing leaders and fishermen, and
engaging local conservation groups and scientists.
One cause of overfishing in Belize is that nearly any Belizean can obtain a fishing license. These open access fisheries makes it challenging to enforce existing rules, like catch and size limits for conch, size limits for lobster and restrictions on fishing in conservation areas.
In addition, the establishment of fishing cooperatives, begun in 1960, inflated the size of the fishing industry through subsidies for fishing supplies, low-interest loans and other incentives, even as fish populations fell.
Collaborating with the government of Belize
Catch shares, which are finding ever-broader acceptance in the United States, can reverse these destructive trends, helping fishermen make a better living while restoring fish populations. We've partnered with the Belizean Fisheries Department, other Government of Belize agencies and nongovernmental organizations (NGOs) in Belize to develop the policy and scientific framework for implementing catch shares.
To raise awareness of the benefits of catch shares, chief oceans scientist Doug Rader and expert Kate Bonzon led workshops that drew government officials, fishing cooperative leaders, NGO managers, conservationists and scientists. "A year ago, catch shares were only a theoretical concept; now we have strong support from the government," says Larry Epstein, EDF's Mesoamerican reef program manager. "Our team and partners helped move the conversation from talking about why catch share programs are an appropriate management tool to how they can be implemented."
Working with local conservation groups, fishing leaders on two projects
Together with local partners, EDF's Latin American and Caribbean team will establish catch share projects in the marine reserves of Port Honduras and Glover's Reef by 2011.
Glover's Reef. EDF and the Wildlife Conservation Society in Belize (WCS) are designing a catch share program at Glover's Reef marine reserve, which is also one of the Caribbean's last remaining Nassau grouper spawning sites. It will include a licensing system in the marine reserve restricted to fishermen who rely on these grounds for food and income, thus reducing fishing pressure.
EDF and WCS staff in Belize have been leading catch shares workshops in Glover's Reef fishing communities that were so successful that participating fishermen began providing information to help design the catch share programs.
Port Honduras. The 160 square mile Port Honduras Marine Reserve is a biodiverse area ecologically linked to coastal mangrove forests that nurture the rare West Indian manatee and two species of endangered crocodiles. The mangroves are also nurseries for fish that migrate out to reefs. Here, we teamed up with Toledo Institute for Development and Environment (TIDE), which co-manages the reserve with the Belizean Fisheries Department.
With TIDE and The Nature Conservancy, we are working on a two-year data-collection-and-analysis project for fisheries in Port Honduras. This will be scientific basis for determining the sustainable total allowable catch, a key ingredient of a catch share program. At the same time we are developing a license program for the marine reserve to eliminate the rampant illegal fishing and ensure the communities of Port Honduras benefit from a sustainable fishery.
What works for Belize could also work for the other nations along the Mesoamerican reef, whose fisheries are suffering from similar problems. "Belize is the keystone of the Mesoamerican Reef ecosystem," says Scott Edwards, head of EDF's Latin America and Caribbean oceans program. "But our five-year goal is to bring the catch share model to the other countries whose coastlines also border the reef: Mexico's Yucatan peninsula, Guatemala and Honduras."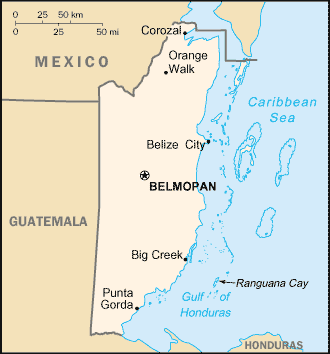 Video: Summit Foundation: Promoting Sustainable Fishing in Belize at Glover's Reef