On-bill repayment programs
Spurring clean energy, creating jobs and saving people money
On-bill repayment (OBR) offers an opportunity for customers to choose clean energy and save money at the same time. Rather than continuing to pay for dirty energy from polluting power plants, consumers can obtain cost-effective energy saving measures for their own buildings and homes at no upfront cost.
So how does OBR work? Once qualifying energy-saving projects have been identified, customers can have them installed at no upfront cost. Instead, customers pay for clean energy upgrades over time on their utility bill. All OBR projects are designed to have cost savings that exceed the monthly OBR payment, so consumers save energy and money at the same time, starting on day one.
Unlike utility run energy efficiency programs, OBR does not cost ratepayers or taxpayers money. Instead the upfront cost is borne by qualifying financial institutions, which are repaid over time via the charge on the customer's utility bill. EDF has been building a coalition of environmental groups, project developers, contractors and financial institutions to help develop OBR platforms that will work for consumers and stakeholders.
The platform can work for single-family, multi-family and commercial buildings. It can also work for both tenant occupied, and owner occupied properties. OBR can accommodate a variety of energy-saving opportunities including equipment purchases, equipment leases, Energy Service Agreements and Power Purchase Agreements.
Benefits of OBR include:
Cost savings for customers
Energy savings
Job creation
Reduction of greenhouse gas emissions
Avoided cost of new generation capacity and reduced use of higher-cost generation for ratepayers
No direct costs to taxpayers or ratepayers
Reduced program costs through a scalable platform and standardized processes
OBR provides a new route to funding clean energy, creating jobs and lowering our carbon footprint. On the national level, EDF estimates that expanding low-cost energy efficiency financing, through platforms like OBR, could boost employment job-years by over 600,000 in the next 12 years (a job-year is a full-time job that lasts for one year). And, at scale, EDF estimates that OBR could help drive $87 billion in new clean energy investment, save over $590 billion from customers' utility bills, and help to avoid 1,100 million metric tons over 12 years, or about 19 million cars off the road.
EDF is building coalitions and securing the necessary regulatory and legislative changes to enact and/or expand OBR programs in California, Hawaii, Illinois, North Carolina, Ohio and Texas.
Our on-bill repayment experts

Brad Copithorne
Energy and Financial Policy Specialist

Email Brad
---

James Fine
Economist

Email James
---

Scott Hofmeister
Energy Efficiency Associate

Email Scott
Media contacts
Mica Vehik512/691-3451 (office)
512/619-8453 (cell)
Email Mica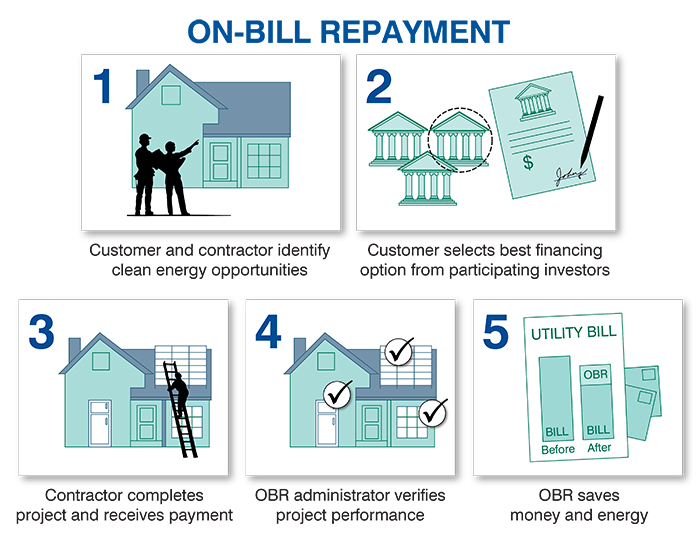 ---
Fact sheets
Reports and presentations
Public Utility Commission policy documents
Media coverage
Letters from financial institutions on key features of OBR