The Colorado River's last great desert wetland

The Colorado River as it existed a century ago, running free from the Rocky Mountains to Mexico, is today a distant memory.
But in one place, a vestige of the emerald wetlands that once covered the entire Colorado River Delta remains.
The 40,000-acre Cienega de Santa Clara is a principal stopover point for migratory waterfowl and home to hundreds of bird species, including the endangered Yuma clapper rail, a secretive shorebird whose cry sounds like hands clapping.
But years of dams and diversions have taken their toll. Today, the Cienega and the Delta hang on by a thread, struggling to survive on less than 1% of the river's water.
In 2010, the federal government responding to population growth in the Southwest, prepared to fire up a controversial $256 million desalinization plant in Yuma, AZ that would harm the Cienega by taking 25% of its water.
We set out to save La Cienega. EDF's Colorado River Project Director Jennifer Pitt brokered an agreement between the United States and Mexico to replace all the water that was lost in operating the plant — a total of 30,000 acre-feet over the entire year-long pilot phase of the project.
Never before have Mexico and the United States agreed to send water to the Delta. Usually the two countries resolved their own water problems through unilateral action, resulting in problems on the other side of the border.
"The old way of dealing with the environment was 'We're operating the Yuma plant, end of story,'" notes Pitt. "Now there's a willingness to listen. For the first time, the two countries recognized the importance of a vital ecosystem and trusted each other."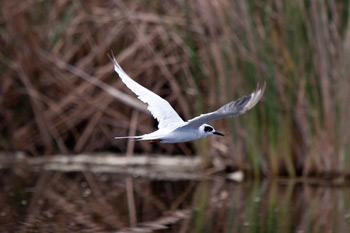 Pitt has long been a tireless advocate for the Colorado, changing people's minds one step at a time. While on a river trip, she persuaded a powerful water broker, Central Arizona Water Conservancy District director Sid Wilson, of the need to strengthen water rights for the environment. "Jennifer convinced me that you could have productive, rational discussions with strong environmental advocates," recalls Wilson.
We are now applying what we learned in the Delta to the entire seven-state Colorado River basin. "Flexibility is key in managing water," says Dan Grossman, EDF's Rocky Mountain Regional Director. "Anytime you can move water among users, you're less likely to build another dam."
In the past, environmental flows across the West gave rivers barely what they needed to survive, and century-old "use it or lose it" water rights discouraged conservation, devastated wildlife and dried rivers. Fortunately, reform is in the air.
Changing how the West views water
We are launching an ambitious plan to reform management along the entire length of the Colorado River. Bringing together groups that have not always cooperated with each other, we want to reduce pressure on the river by:
Guaranteeing water rights for the environment. We need to determine the amount of water the Colorado River system needs to remain healthy and revive natural seasonal floods and low flows.
Removing barriers to water trading and transfers among users so the market can ensure water is used for the highest purpose.
Replacing wasteful subsidies and policies with incentives that promote conservation and efficiency in cities and on farms.
"Irrigated agriculture in the West uses up to 80% of surface water, and this is not sustainable," says Grossman. "EDF is helping create a template for smart water transfers that maintain viable rural and urban communities as well as healthy rivers."
In untangling the web of competing water interests, our partnerships with The Nature Conservancy, Trout Unlimited and local conservation groups will be pivotal.
Flexibility is key in managing water.

Dan Grossman

Rocky Mountain Regional Director
With the river already over-allocated and populations growing, there's no time to lose. Reservoirs along the Colorado River are already barely half full, and as scientists have gotten better at assessing regional impacts of climate change, they predict a further 10-15% decline in its flows by midcentury.
Still, we and our partners remain hopeful. "A new generation of Western water managers is looking at water differently," says Grossman. "They understand the way to keep rural economies strong is to maintain the health of the river ecosystems."
"We are helping update water management to the realities of the 21st century. If we don't do this right, we risk losing some of our nation's most iconic ecosystems."
30 million


people depend on the Colorado river for their water supply
EDF Rocky Mountain Regional Director

Healthy flows for the Colorado River Basin Adobe Reader [PDF] 2.0mb